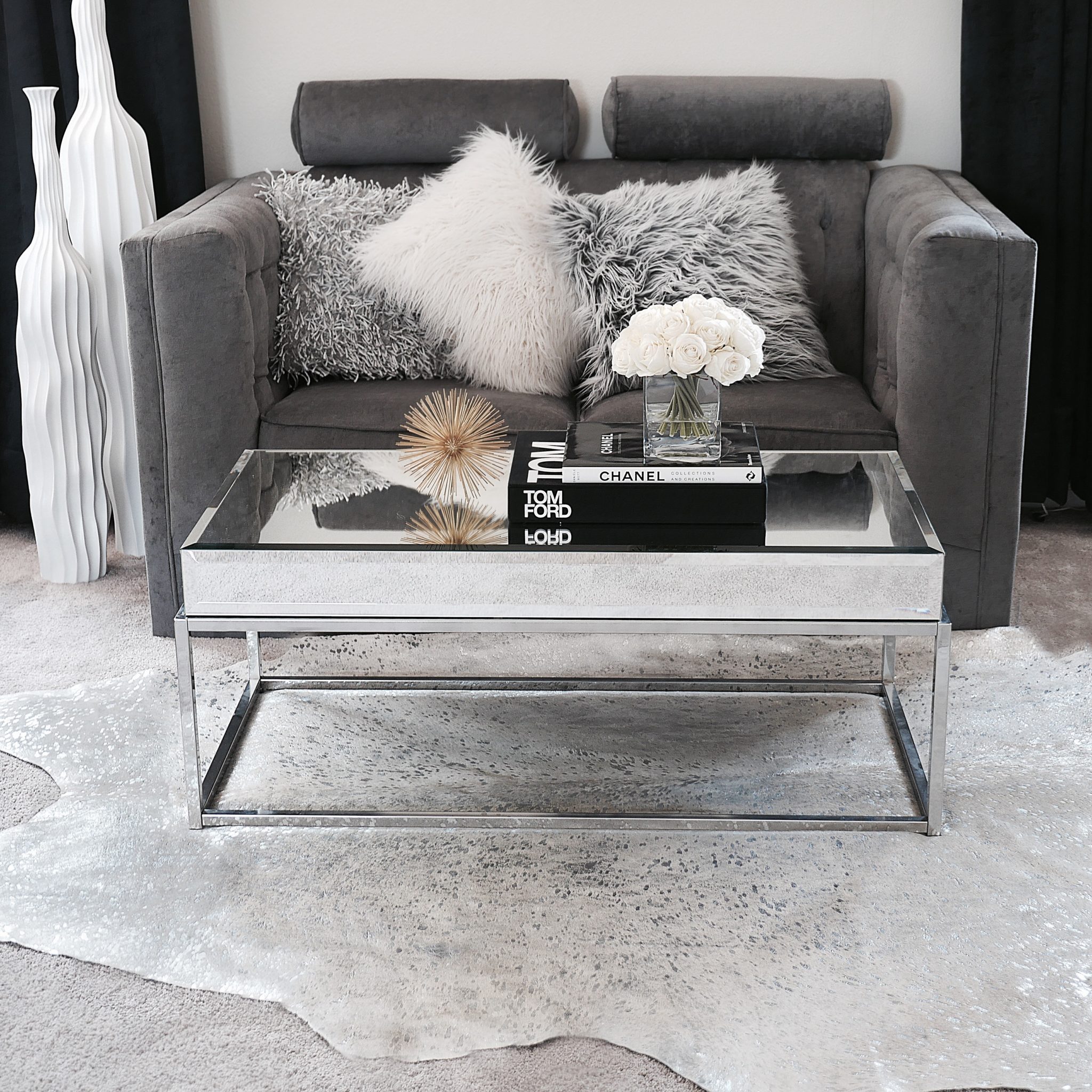 Rug | Serendipity Devour Cowhide Rug
Cushions | White Cushions
Decorative object | Gold Sphere Ball (similar here)
Flower vase |Roses With Square Glass Vase
Floor vase | Floor Vase (similar here)
Coffee table | Modern Mirror table (similar here) & (here)
Coffee table books | CHANEL & TOM FORD
Decorating a coffee table space is always so much fun! Your coffee table may be tiny but the right decor for the space can give any room a beautiful pop. I love doing interiors, I did it for a few of my friends and of course for my own house. Here are a few things to keep in mind when decorating your coffee table space. Yes space and not just the table because composition matter's a lot. Its not just the coffee table but the area surrounding it as well that matters, everything should flow!
CHOOSE A THEME :
You have to figure it, out first how are the interiors of your house or how you want them to be? Whether your style is vintage, modern, bohemian etc
DISPLAY A FAVORITE COLLECTION:
Instead of stacking lots of books on top of each other consider layering some pieces on top of the books. Like I placed a flower vase on top of these.
MINIMALIST APPROACH :
Try to put less but eye catchy and stylish accessories. I personally do not like cluttering it with too many things.
AN EYE CATCHY SCULPTURE OR AN OBJECT :
Have a mix of high, low & medium height things when decorating the table as it makes for a nice composition. A stylish accessory can add a lot of flair. Every thing is White, Gray & Black in the picture above but adding a little color is always a good idea. I added Gold for a more luxe vibe.
FLOWER ARRANGEMENTS, CUSHIONS & VASES :
Flower arrangement is the first thing that comes to your mind when you think about decorating your coffee table. I love monochromatic arrangements displayed in glass vases as opposed to the ones that are not see through. Adding cushions gives it a more warm and comfy vibe. Instead of cluttering my coffee table with too many things I opted for floor length vases. They can add a lot of flair to any space.
THE PERFECT RUG :
It is extremely important to choose your rug keeping in mind your theme. I Choose this metallic off white rug from Rugs USA with uneven shape as it helped in breaking the strong structured look of this modern space. The silver spots peaking through the carpet added a bit of an edge and made it look luxe.

I like Modern Minimalism with a dash of LUXE, what's your style and how would you like to decorate it?
Thanks for stopping by!
Stay Fancy
Adi xx
In collaboration with Rugs USA