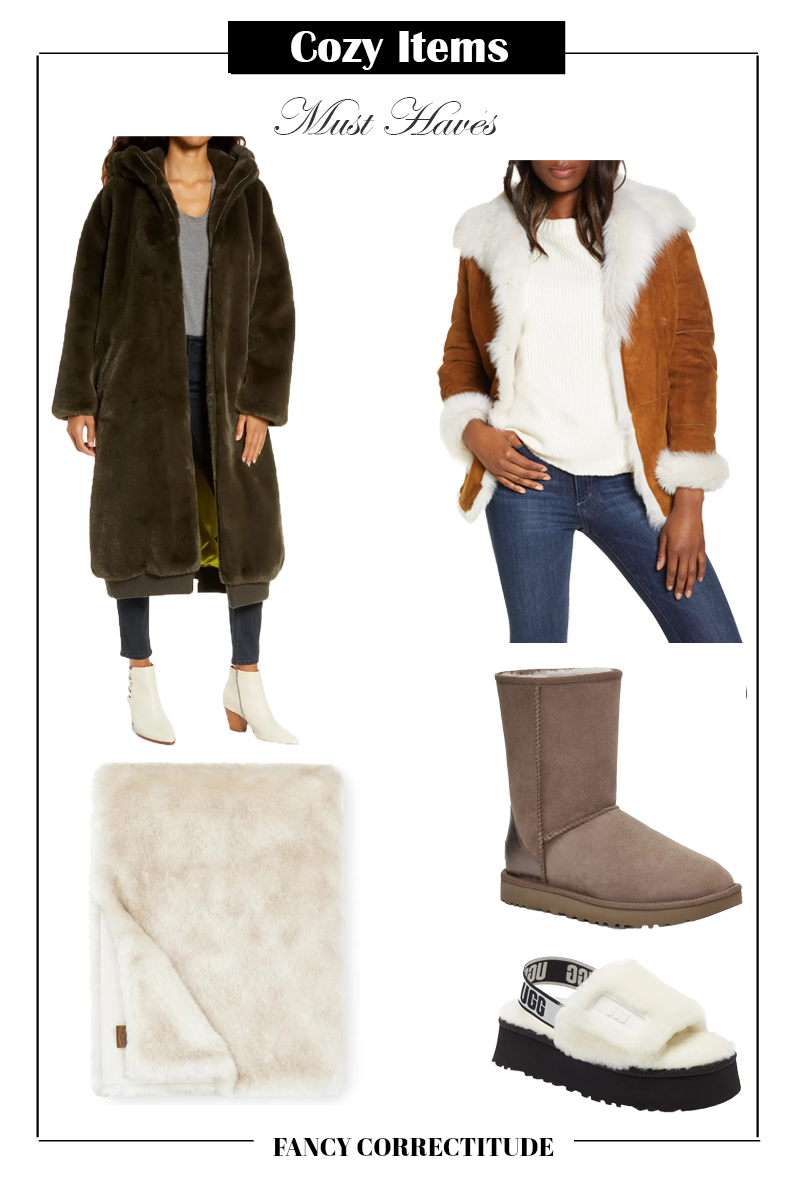 Fall is here, which means you have every reason to own UGG's cozy items. We have good news for you! Not just UGG boots, but this year, you can also get your hands on UGG's first-ever A/W 2020 Ready-To-Wear collection. The collection is full of chic pieces adorned with shearling. However, if you want to relax at home and be cozy, what's better than wrapping yourself in UGG blankets. Well, this sounds like the perfect comfy and cozy package.
So, here is the much-needed list of UGG items that has almost everything, from boots to coats and much more. When it comes to coats, their plush and sophisticated look will steal your attention immediately. Talking about boots, they are chic and cute. Not just this, the list also includes blankets that you'll want to curl up in the moment you see them. This year, you get to enjoy the season while being cozy, thanks to UGG! Now, scroll to start the season with our favorite picks from UGG.
Koko Hooded Oversize Faux Fur Coat ($398)
A longline coat that'll give you a warm hug with its plush faux fur.
Judith Long Cardigan ($138)
This cardigan feels soft and at the same time it looks so sophisticated.
Fuzzy Logo Sweatshirt ($88)
A cute sweatshirt that will provide you all the comfort you need.
Classic Short II Metallic Trim Boot ($169.95)
The metallic accent of these boots with plush shearling offers an extra chic look.
Markstrum Waterproof Chelsea Boot ($149.95)
Because the lugged sole boots are trending and they deserve a spot in your closet.
Esme Long Genuine Toscana Shearling Coat ($2,295)
Stay stylish yet snug with this shearling coat.
Hattie Long Faux Fur Coat ($325)
This faux fur coat will work anywhere and can be worn all day long too.
Fluff Yeah Genuine Shearling Slingback Sandal ($99.95–$109.95)
This year's fall style trend is all about comfort – and this snuggly slingback sandal is the perfect pick that speaks comfort.
Disco Genuine Shearling Slingback Slipper ($99.95)
Here comes another cute pair of slippers that has monochromatic colors and will look great on everyone.
Nori Oversize Faux Fur Coat ($295)
Wrap yourself in this warm oversized faux fur coat and exude elegance anywhere you go.
Augusta Faux Fur & Faux Shearling Baseball Jacket ($298)
This is the perfect jacket that will make everyone sit up and take notice as it has a unique color combination and plush shearling.
Karlene Genuine Toscana Shearling Jacket ($1,495)
The oversized collar with Made-in-Spain shearling is perfect for making a bold statement.
Firn Faux Fur Throw Blanket ($258)
Time to curl up and sleep peacefully in this soft fur throw blanket.
Whistler Throw Blanket ($98)
This throw blanket is perfect to elevating the look of your living room (plus, it also feels warm).
Bailey Bow II Genuine Shearling Boot ($199.95)
The combination of satin bows and plush lining in this boot will look good with every outfit.