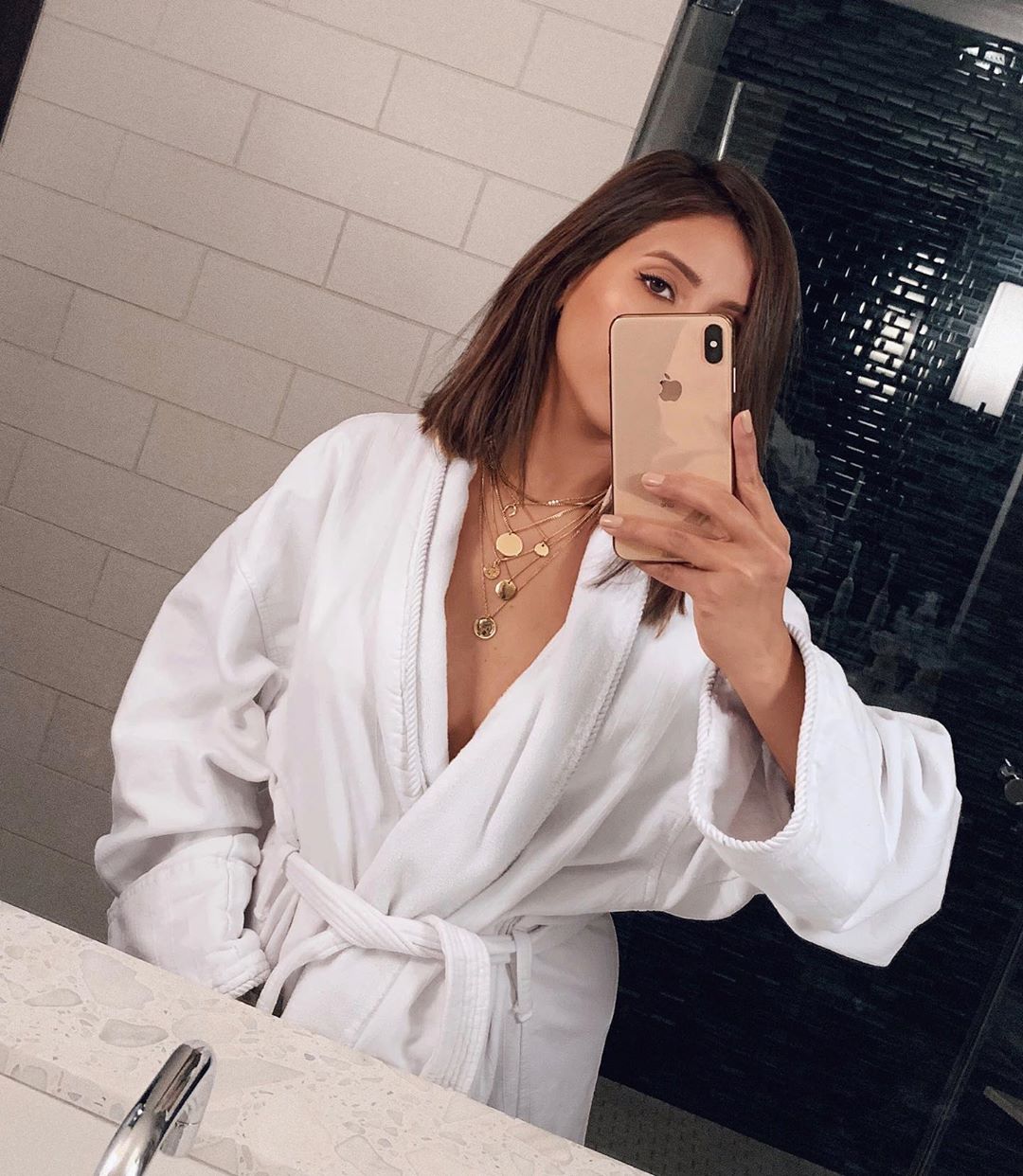 Jewelry can elevate your outfit and give it that extra sparkle. While it's super fun to experiment with all the new trendy pieces, it is also important to have some timeless go-to accessories that you can rely on during moments of fashion crisis. Fine jewelry is an investment that pays off in style in the long run. So we've put together a list of 21 must-have fine jewelry pieces from Nordstrom, which you can pair with an ensemble of your choice and take it to the next level.
Nura Crossover Ring
MONICA VINADER ($95-$135)
Delicate rings are a staple in every woman's jewelry collection. Now upgrade it this season with this ring that shines in sterling silver or 18-karat-gold vermeil in crisscross design.
2.  x Doina Fine Chain Bracelet
MONICA VINADER x Doina Fine Chain Bracelet ($175)
Its inspired by '50s Italian glamour, this beautifully woven chain bracelet boasts a fluid design.
Ouroboros Diamond Pavé Gold Ring
GUCCI ($13,800)
Three rows of stunning pave diamonds encrusted in glittering gold, punctuated with Gucci's classic serpent head – how can anyone resist this fine jewelry?
18k Gold Pavé Diamond Initial Pendant Necklace
BONY LEVY ($498)
You shouldn't miss out on a glittering initial charm hanging on a delicate chain for a personalized touch.
Baja Deco ID Diamond Slide Bracelet
MONICA VINADER ($495)
A sophisticated take on a nostalgic friendship bracelet with adjustable slide closure 18k-gold plate 
x Doina Earrings
MONICA VINADER ($175)
These tactile tapered earrings can be worn vertically or horizontally.
Getty Princess Diamond Pendant Necklace
BONY LEVY ($650)
Sparkling diamonds overlapping within this 18-karat gold pendant is a pattern that will forever rule the fashion world.
Engravable Linear Friendship Chain Bracelet
MONICA VINADER ($275)
This gleaming precious metal bracelet is a modern rendition of a friendship bracelet with an engravable curved bar held together by twisted chains.
El Mar Emerald Triple Station Necklace
BONY LEVY ($1,095)
For when you want that pop of color, these round rich green emeralds suspended from a delicate gold chain is the best choice.
Riva Waterfall Diamond Cocktail Earrings
MONICA VINADER ($1,250)
Aptly named, these cocktail earrings mimicking the sparkling gush of waterfalls are a showstopper.
Siren Mini Nugget Earrings
MONICA VINADER ($450)
Feminine and sophisticated drops of semiprecious stones displayed on a bed of rose gold – this is a fine jewelry piece that will never go out of style.
Ofira 14K Gold Double Link Ring
BONY LEVY ($595)
Keeping up with the chain link craze of 2020, this double layer ring in classic gold is a must-have accessory.
Petite Supernova 18K Gold & Diamond Stud Earrings
DAVID YURMAN ($1,700)
These statement earrings radiate a stand-out glow – and we just can't stop gushing about it.
El Mar Emerald & Diamond Stacking Ring
BONY LEVY ($695)
A skinny ring that's perfect for stacking, cast with round emeralds and five diamond stations makes for an eye-catching contrast.
Mini Cable 18K Gold & Diamond Stud Earrings
DAVID YURMAN ($1,450)
These 18K gold & diamond earrings can only be described in one word: BEAUTIFUL!
Africa Diamond Drop Earrings
MARCO BICEGO ($1,680)
Modern Bubble drop earrings topped with faceted diamonds – this is a fine jewelry piece we live for.
White Topaz Chain Link Ring
POPPY FINCH ($295)
Chained oval links accentuated with a glowing pear-cut white topaz in the center – simply irresistible.
Supernova Spray Diamond Ring
DAVID YURMAN ($6,800.00)
It is an iconic piece that is like a works of art. Made with 18-karat yellow gold & baguette and round-cut diamonds.
DY Crossover Ring with Diamonds in Gold
DAVID YURMAN ($2,800)
A chunky crossover ring with a band of stunning diamonds and stacked rings of twisted pattern gold.
Station Y-Necklace
BONY LEVY ($450)
A graceful Y-necklace with polished cubical elements set on a dainty chain.
Skinny Stackable Diamond Bangle
BONY LEVY ($2,395 – $2,595)
Stackable diamond bangles with a delightful flair that are sure to become a staple in your jewelry collection.