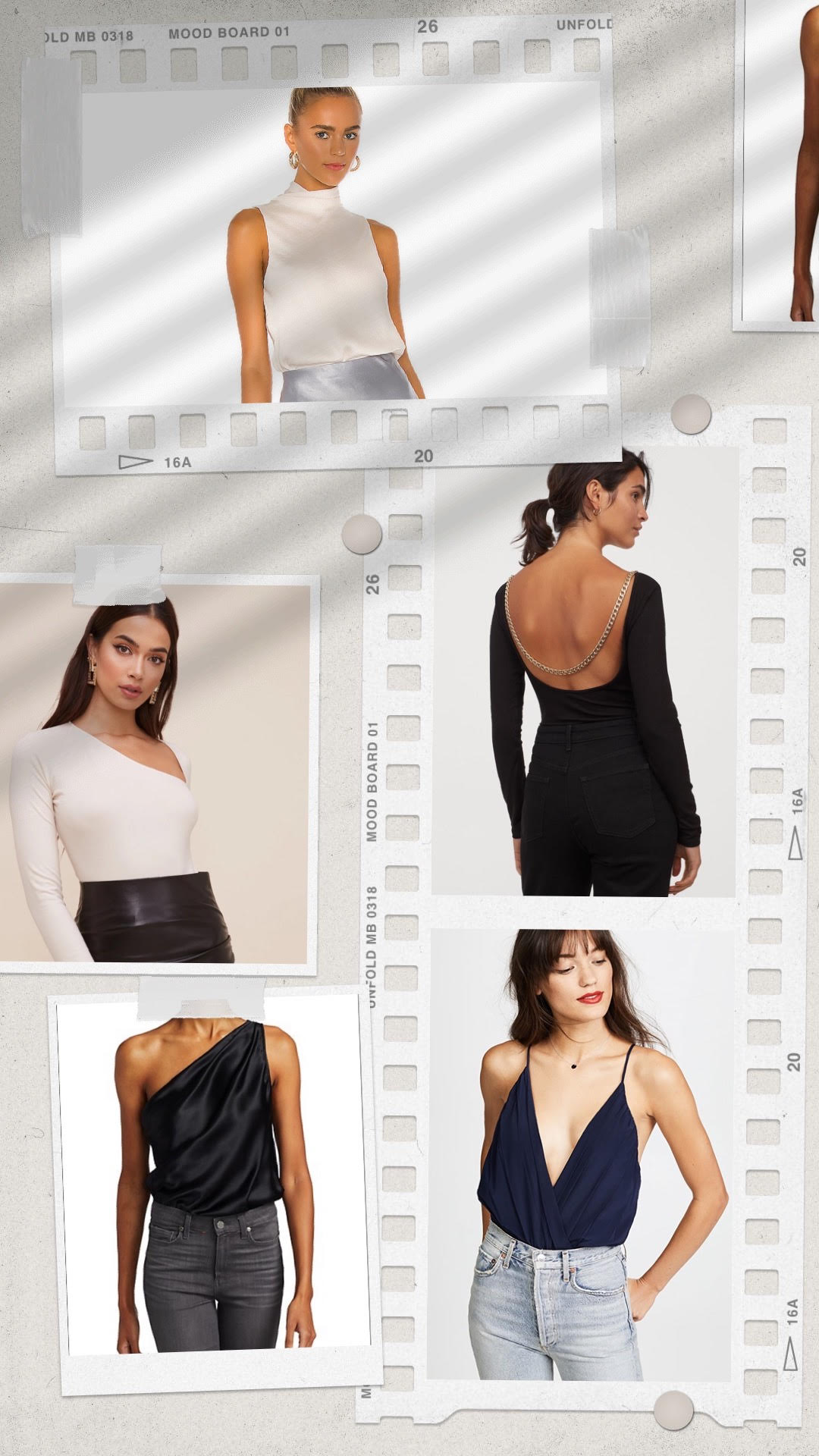 When winters come around, the first clothing item that comes to mind is a comfy sweater. No doubt that they have stayed with us through thick and thin, but times change, and so does winter fashion. So, toss out your sweaters and make way for chic-and-sleek bodysuits. They are the perfect option for layering, extremely versatile, and, believe it or not, timeless! Bodysuits are extremely easy to wear and make getting dressed ten times faster! It also makes a tucked-in outfit with high waist bottoms look sophisticated and sleek. We have seen many of our favorite celebrities sporting this trend, so it's only fair that we give it a go.
Available in neutral-tones or glittery party-worthy ones; you're really going to be spoilt for choice when it comes to picking the best bodysuits. So, without further ado, keep scrolling to give your wardrobe an elevated look.
If you're going for a sassy look, the sleek and form-fitting silhouette of this bodysuit is perfect as it's made from a heavyweight coated jersey material.
Step out in style by wearing this solid color bodysuit featuring a deep V neck in a cable knit design with a press stud fastening on the back.
Ballerina Bodysuit ($198) $138.60
Made from a silky chiffon fabric with a deep plunging neck and adjustable crisscross back straps, this bodysuit absolutely charming to wear with almost anything.
Zip Front Long Sleeve Ribbed Bodysuit ($52)
Our favorite is a ribbed bodysuit built-in lightweight compression with a sleek zip front that can be worn underneath a neutral-toned long coat for a jaw-dropping look.
NYC Darby Bodysuit ($187) $130.90
A lovely one-shoulder silhouette made from non-stretch charmeuse that can be styled for a formal event or a casual occasion.
Undoubtedly versatile and timeless, made in a stretchable fabric with a very generous and chic cutout at the front, this is the comfiest bodysuit you can wear.
A long sleeve bodysuit, made in luxe velvet fabric in a gorgeous rustic orange tone, is bound to turn heads.
Draped Turtleneck Bodysuit ($265) $185.50
Cut from lightweight charmeuse in an uber-chic turtleneck, dress it up or dress it down while still talking luxury with your look in this draped bodysuit.
We love a good show of shoulders every once in a while, especially when it's in a ribbed textured off-shoulder bodysuit.
Our love for ribbed bodysuits is undeniable, and this lovely cognac color is quite the game-changer that will work effortlessly great with any outfit.
Saturn metallic stretch-knit bodysuit ($68)
A stretch-knit fabric bodysuit with glittering metallic threads has a chic 90s vibe to it and is perfect for a night out in the town.
The Label Asymmetric Bodysuit ($74)
An asymmetrical cut enhances the look of this otherwise simple bodysuit, ensuring that you will get endless compliments.
Giselle Power Shoulder Silk Wrap Bodysuit ($300) $210
Not only can this be considered as an everyday basic bodysuit, but it can also be worn when there's a special occasion around the corner.
Snatched So Good Ribbed Bodysuit ($42)
A form-fitting bodysuit that accentuates your figure is the perfect foundation for almost any outfit you're planning to wear.
Velour offers a vibrant yet sophisticated look in this one-shoulder bodysuit with a statement puff sleeve, which is the talk of the fashion town at the moment.
Deep V-Neck Long Sleeve Bodysuit ($39)
 Look no further for an easy choice for your fitted looks because this long sleeve jumpsuit means smooth lines and no distractions.
Harmon Thong Bodysuit ($136.50-$195) $136.50
With Valentine's day coming up, we know red will be your preferred choice, and this flattering bodysuit will surely keep the required eyes on you.
A unique off-shoulder style for the fashionista in you and a color that will surely make your eyes pop.
No matter the occasion, choose to look your fabulous self in this low cut V-neck and sassy open-back bodysuit that will take you from drab to fab.
Seamless Turtleneck Bodysuit ($48)
So many ways to style this bodysuit, but pair it with high waist black denim jeans, and get ready to rock the season.
Ribbed Chain-detail Bodysuit ($24.99)
Business in the front and party at the back! This bodysuit incorporates the perfect amount of elegance and quirkiness at the same time with chic chain detailing.
Up Next: Get through winter in style with these 15 stellar sweaters