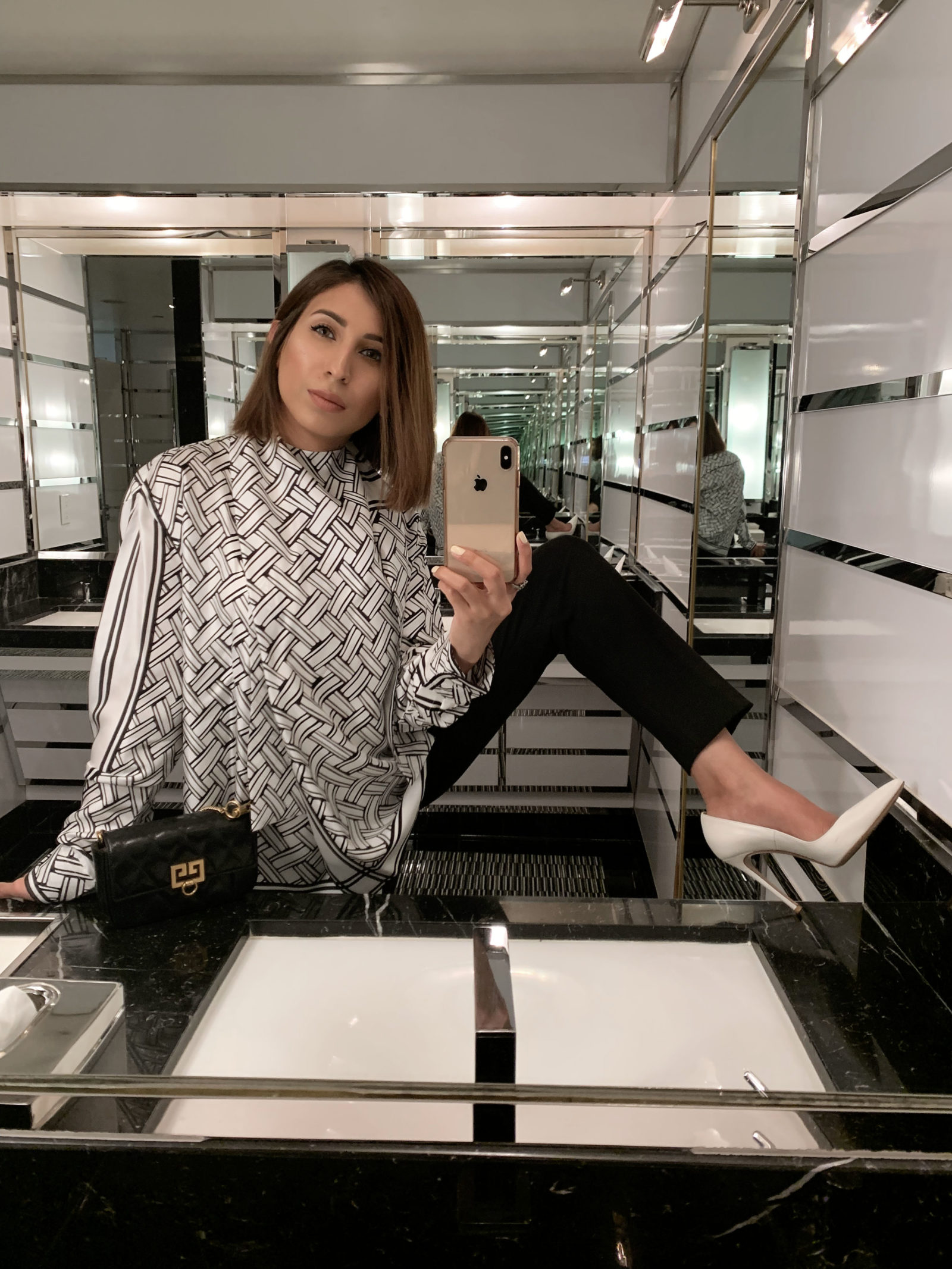 Oversized coats, larger-than-life sneakers and now Itty-Bitty Bags! Designers have been playing with sizes for quite a long time now and it's no surprise that they've all been ruling the trend chart in their own unique way. Mini bags have been on the street, runway and everywhere around you for a few seasons in a row. Yes, it is 'big' enough to hold one's credit card or an iPhone but it's not about the object, it's about the charm they hold! Cute yet stylish, this 'little' thing has a big impact. Here are some of my picks for the season.
Bottega Veneta Leather Crossbody Bag
This woven beauty from Bottega Veneta is one of a kind! Red leather, silver handles and all things pretty, this design is a luxury staple. It has a shoulder strap so you can use it as a crossbody bag or place it on your fingertip like a typical 'micro' bag. Chic yet sophisticated, this piece can elevate any look, any time.

Bottega Veneta Pouch
If you're a frequent reader of my blog, you must already know how much I love soft tones and neutral shades. Soft ruched leather, hinged frame top, and self-ties at sides, this clutch is a statement piece for sure! This little piece can hold your 'little' essentials and a great amount of elegance!

Jacquemus Matte Leather Bag
Made of navy calf leather, this matte micro mini bag is my personal favorite! You can style it with literally any outfit and I bet it'll get all the attention that it deserves. Minimalistic and sober, this one's perfect for all those who consider this trend a bit too 'stylish'. Literally all the 'It Girls' have been rocking this bag.

Loeffler Randall Mimi Beaded Satin Shoulder Bag
This statement-making 'Mimi' bag is sure to turn heads around wherever it goes! Gold beads, glitters and that lustrous shoulder strap is meant to catch attention from each and every angle. Hold it like a clutch or use the shoulder straps, it looks glamorous either way!

Chloe C Mini Suede Trimmed Bag
Logo trend has my heart since the very first day it showed up! Ultimately sophisticated, this tiny leather piece is classy, light and perfect for every occasion. The big 'C' logo makes it look so chic and effortlessly stylish. If you're trying your hands on this trend, this piece is definitely a must!

Gucci GG Marmont Circle Bag
Whether it be the burnished logo plate, its shape or the attractive quilted leather, everything about this bag is special enough to seek attention! Talking about the trend, this is one of the most famous pieces for the season! A total classic.

Boyy Mini Buckled Leather Bag
This leather piece is right in line with the season's miniature bag trend. Black calf leather, large signature buckle and detachable metal shoulder straps, all contribute to make it a piece you can't keep your eyes off! Subtle yet stylish, this bag is definitely worth loving.

Givenchy Mini Pocket Chain Bag
Clubbing two of the greatest accessory trends for the season, this convertible beauty from Givenchy is an absolute must-have. Apart from classic logo embellishment, what I love about this bag is that it can also be worn as a belt bag! A micro mini bag with detachable leather shoulder straps, metal chain, and a functional loop, this piece is literally everything I've ever wanted in a bag!!

Chanel Wool Tweed Waist Bag
Classic, unique and sophisticated, I loved this piece from Chanel the moment I saw it! Clasp it from two fingers, wear it like a crossbody or make it a belt bag, it looks stunning in all forms! The versatility and simplicity of this bag make it a typical 'Chanel' piece! You can go for it if you wanna own just one gorgeous micro bag for the season.

Bottega Veneta Metallic Clutch
Made of soft, metallic crinkled leather, this is one of the most 'fancy' pieces in my list! It is perfect for glam and upscale events but obviously, it won't fit all tastes. With slim, metallic shoulder strap, it can either be worn as a crossbody or can be carried as a normal clutch. Also, this one's a miniature of the iconic pouch from the brand!

Which one's your favorite? Do not forget to share with me!
Adi xx