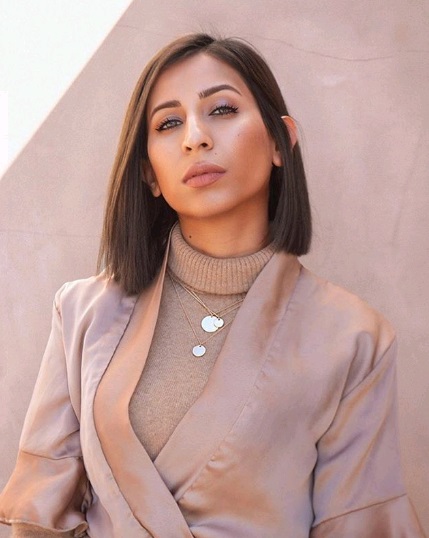 I never used exfoliators on a regular basis, but recently I have discovered chemical exfoliators and honestly, they have my heart. No, seriously, if there is one product that isn't given enough credit, it's a chemical exfoliator. I love them for their versatility; they can fix almost any skincare concern. It's unbelievable! To be honest, I can't believe an exfoliating toner is all I needed for a healthy glow! Without further ado let me introduce you all to my skin savior. Yes, I am talking about The Glow Potion Exfoliating Toner by Model Off Duty Beauty.
This vegan exfoliating toner by Model Off Duty Beauty was just the right pick because I was looking for a product that resurfaced my skin while hydrating it. In other words, I wanted an entirely non-abrasive but incredibly effective toner. The Glow Potion Exfoliation Toner seemed to check all the boxes which practically compelled me to try it out. Another thing that was super attractive was the fact that MODB is committed to producing all-clean, vegan, and natural products.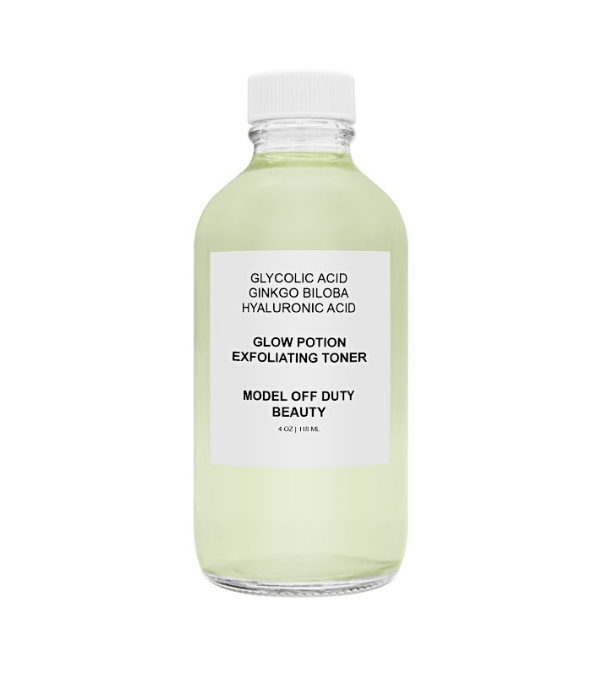 Model Off Duty Beauty Glow Potion Exfoliating Toner
I have incorporated this vegan exfoliating toner into my morning regimen and it is safe to say that I just couldn't have picked a better toner. It's perfect! Filled with the powers of hyaluronic acid, this toner has significantly brightened my skin. Not just that, this toner has made my entire routine far more effective and I can feel it. To my surprise, this toner is also filled with skin-soothing powers. I highly recommend you try it for yourself. This product can accelerate the natural production of new skin cells, and not just that, it can even intensify collagen formation and balance the skin's natural pH. To put it in easier words, it is the perfect product to replenish my skin for a younger-looking glow.
THE INGREDIENTS
If you are not obsessively vigilant about what ingredients you are introducing into your regimen, you are doing it wrong. There is no other way! That is why I was thorough about what this toner brings into my routine. Honestly, I was pleasantly surprised. You certainly don't expect a product to be free from all the questionable ingredients. Oh yes! This toner is as safe as a skincare product can get. It is completely clean, vegan, and 100% natural. Not just that, it is free from toxins, parabens, and phthalates. In fact, it's sustainable and cruelty-free as well. Here is a list of all the excellent ingredients in the toner and how they add their nourishment to the toner.
Glycolic Acid –With the power of glycolic acid, this toner is filled with exceptional exfoliation powers which promote brighter, well-hydrated, and plumper-looking skin.  
Ginkgo Biloba – Ginkgo Biloba adds the properties of skin-loving antioxidants. In fact, it also has efficient anti-aging and skin-soothing powers. 
Hyaluronic Acid – The ingredient that makes this toner best than the rest. Hyaluronic acid has a unique set of powers that lock in the moisturize for long-lasting hydration. Plus, it also boosts natural collagen synthesis, which makes it supremely anti-aging.
Watermelon – Watermelons are significantly antioxidant-rich and add the powers of vitamin C, vitamin A, and lycopene to the toner. It also adds protective and nourishing elements to the toner.
Green Tea – Green tea makes this toner incredibly antioxidant-rich and anti-aging. Plus it also adds vitamins B and E for the ultimate nourishment.
Up Next: The 7 best restorative night creams worth buying in 2021