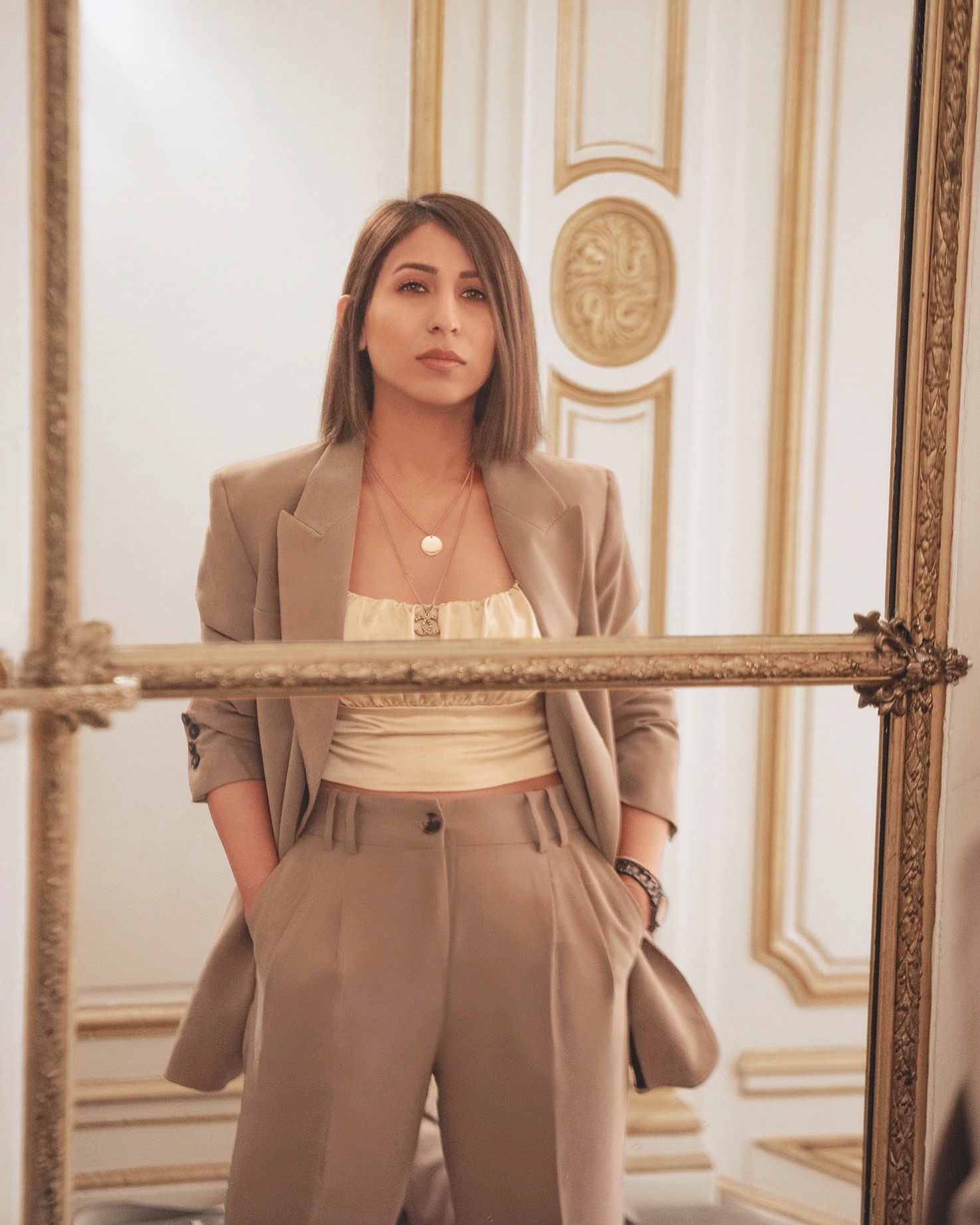 For years my everyday skincare regimen has consisted of a cleanser, a facial serum, and a moisturizer. Clearly, I have always been inclined towards creating a minimal routine. I knew my routine was perfect until one of my closest friends pointed out, my skin has always been greasy. "Well, yes! My skin has always been greasy. I have an oily skin type.", I said. The next thing she said was a turning point for my skin. She said, "Yes, your skin is oily, but what do you do to balance the oil production." One thing led to another, and I was introduced to a clean beauty brand called Model Off Duty Beauty. The brand is known for producing 100% non-comedogenic products.
Today, I have been using Model Off Duty Beauty's Glow + Hydrate Cream Cleanser Hybrid along with their Glow Potion Exfoliating Toner. These two products have revolutionized the way I cleanse my skin. As a matter of fact, before incorporating this cream cleanser, wasn't aware of the concept of over-drying. For those of you oblivious like me, if you incorporate a harsh cleanser in your routine to get rid of the excess oil quickly, you will end up over-drying your skin which simply leads to overproduction of oil and sebum. This further leads to clogged pores, blackheads, and whatnot.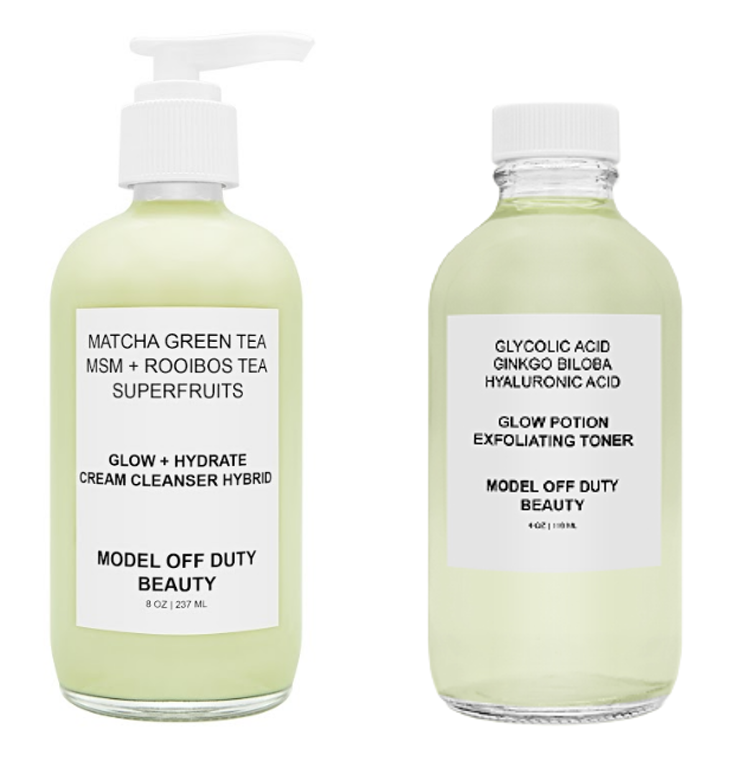 Model Off Duty Beauty: Glow + Hydrate Cream Cleanser Hybrid + Glow Potion Exfoliating Toner
So, long story short, your cleanser has to be potent but gentle at the same time. After all, nothing good comes out of hasty skincare decisions. Another important, thing Model Off Duty Beauty taught me was my cleansing regimen is absolutely incomplete without a toner. I have been using these two products for years now. Trust me, it is an understatement but I'll say it anyway, they have been the perfect cleansing picks for my regimen. Read on to find more about Model Off Duty Beauty's Glow + Hydrate Cream Cleanser Hybrid along with their Glow Potion Exfoliating Toner.
Not so long ago, cleansers and toners were extremely drying, but today, cleansing products are mindfully made to cleanse the skin without stripping any excess oil. It was definitely hard to believe. As a matter of fact, I used these products on a whim, mostly because I knew they were made up of all-clean ingredients. Honestly, I considered what's the worst that could happen, since they are free from any chemical ingredients, they wouldn't harm my skin. But, not in my wildest dreams, I had imagined that they'll become my cleansing staples. Today, I am so grateful that I took a leap of faith.
Plus, the products by MODB are not just clean, but they are 100% vegan, completely non-abrasive, and astonishingly effective. After just a few consistent applications my oily skin did not look and feel greasy at all. Plus, it significantly brightened. Not just that the creamy cleanser is so comforting to use and the toner is amazingly kind.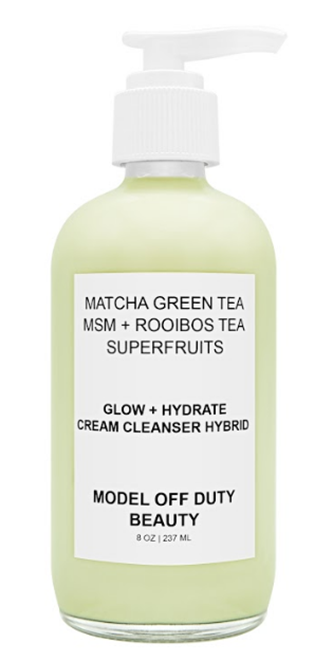 As of now, the Glow + Hydrate Cream Cleanser Hybrid is my favorite cleanser for a powerful yet kind everyday cleansing experience. Overflowing with plenty of vitamins, this cleanser cleanses my face without over-drying it. Rather it is a remarkably soothing experience. Not just that, it is accessibly non-foaming and works to hydrate and glorify my complexion. Plus, it is filled with astonishingly skin-loving ingredients like matcha green tea, MSM, rooibos, and cranberry. It is a complete package that delivers cleansed, protected, and younger-looking skin.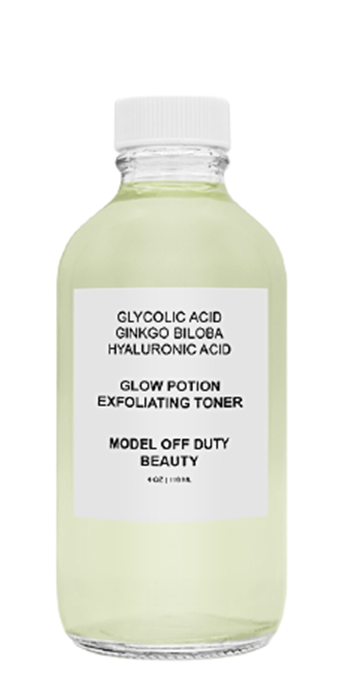 The Glow Potion Exfoliating Toner is the perfect second step in my cleansing routine. Simply because it helps in clearing away any impurities that are left behind. Plus, it reinvigorates the skin and prepares it for any further steps in my routine. As matter of fact, it is one of the kindest toners I have come across that works well. Every time I tone my skin, I feel like it is a burst of refreshment for my skin. Plus, it is also a burst of happy skincare ingredients like glycolic acid, Ginkgo Biloba along with hyaluronic acid. This is my secret for happy and healed skin that glows.
If you want cleansed yer nourished skin, I highly recommend adding these two clean beauty products to your regimen right away. They are definitely worth your time and dime.