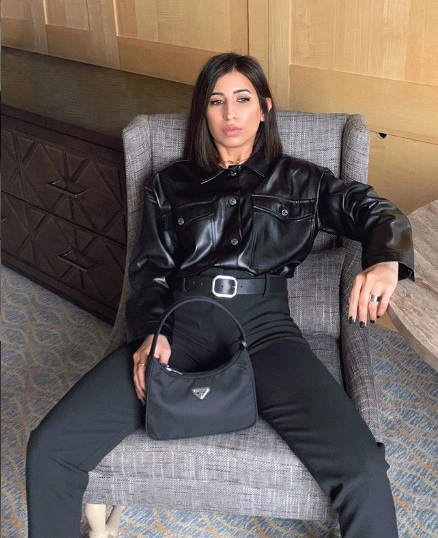 In case you didn't the memo, Fall fashion trends are all about reimagining, rethinking, reworking, and reinventing classic fabrics, patterns, and style. And when we talk about classic, the first thing that comes to mind is leather. No wonder, several seasonal trends have branched out of this sturdy, glossy, feel-good fabric – and all the coolest Instagram 'It' girls are wearing it everywhere! Be it bags, blazers, or shirts -the versatility of the structured silhouette and subtle touch is what makes it so opulent.
So, for days when you want to add an expensive touch to your outfit without splurging on it, leather pieces are everything you need. Ahead, we curated a list of trendy leather items that will effortlessly give you head-turning ensembles. Get ready for impeccable outfit ideas, because these items are irresistibly chic!
1. Leather Shirts 
Think white pants, black knee-high boots, and leather shirt, now that's what we call a Fall appropriate look. This versatile piece will never go out of trend – no matter which year or season it is.
Faux Leather Shirt ($89) 
Faux Leather Shirt ($34.99)
Fearless Shirt ($168) 
Standard Vegan Leather Pleated Sleeve Shirt ($295) 
2. Small Leather Bags 
Tote and gigantic bags have had their fair share of fame, but now it's time for teeny-weeny leather bags. Even celebs like Kylie Jenner love flaunting mini leather bags.
Sidonie mini bag ($1,100)
Mini Baguette Bag ($78) $54.60
Black 'Le Chiquito' Clutch ($510)
Chain Shoulder Strap Handbag ($29.99) 
3. Leather Pants
Just because you had to give up on skirts does not mean you can't flaunt your legs. You got to do it with leather pants this season, that's it!
Faux Leather Pants ($34.99)
Slim Fit Faux Leather Pants ($89.95) $59.95
Sasha Crop Faux Leather Pants ($78) 
Faux Leather Pants ($29.99)
4. Leather Boots
Classy leather boots are timeless. They can elevate the look of your outfit at an instant. And to be honest, what's not to love about leather footwear?
Topstitched Tall Leather Boots ($279) 
Knee-high Boots ($69.99) 
Justina Chelsea Boot ($149.95)
Crocodile-patterned Boots ($59.99)
5. Leather Blazers 
If you are fed up of monotonous corporate-like blazer, leather blazers are your new fashion saviors. The sleek and chic look will steal everyone's attention.
Kylie Vegan Leather Shawl Collar Jacket ($395)
Betty Blazer ($575) $290
Fallon Puff Sleeve Faux Leather Jacket ($140) 
Faux Leather Blazer ($98) 
Up Next: THE 15 MOST STYLISH FASHION ITEMS ON NORDSTROM THIS WEEK: EDITOR'S PICKS