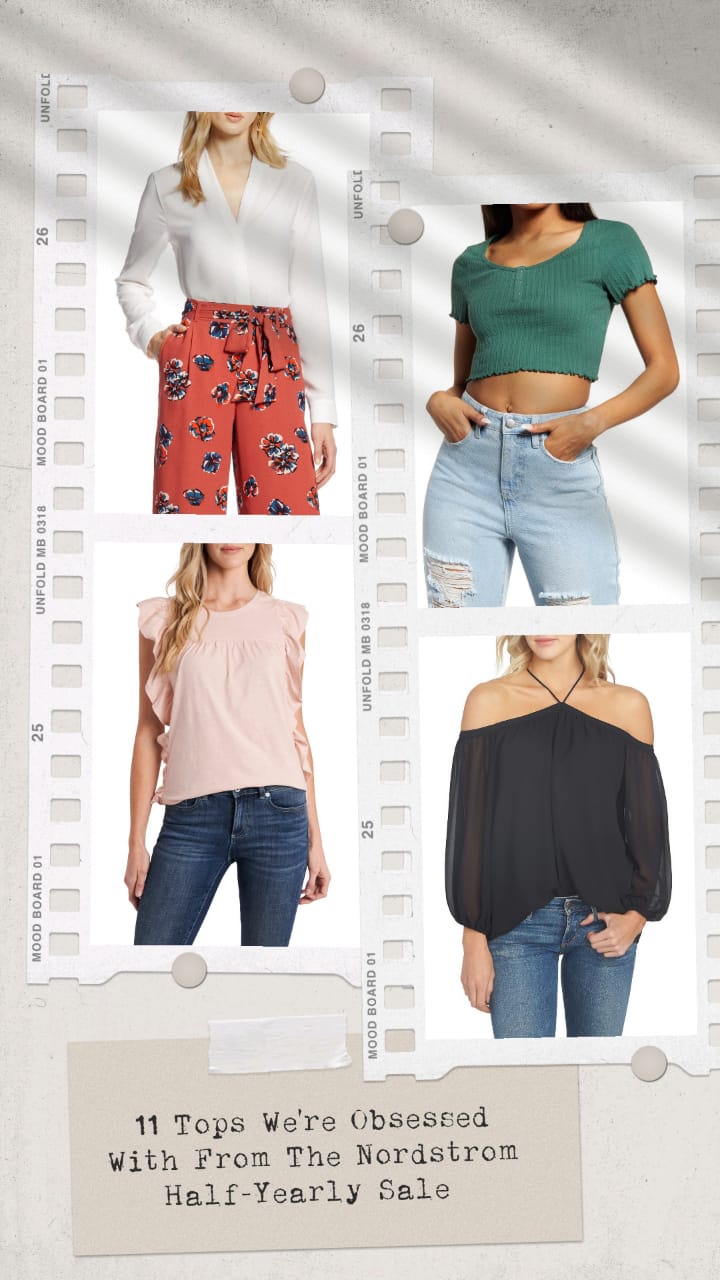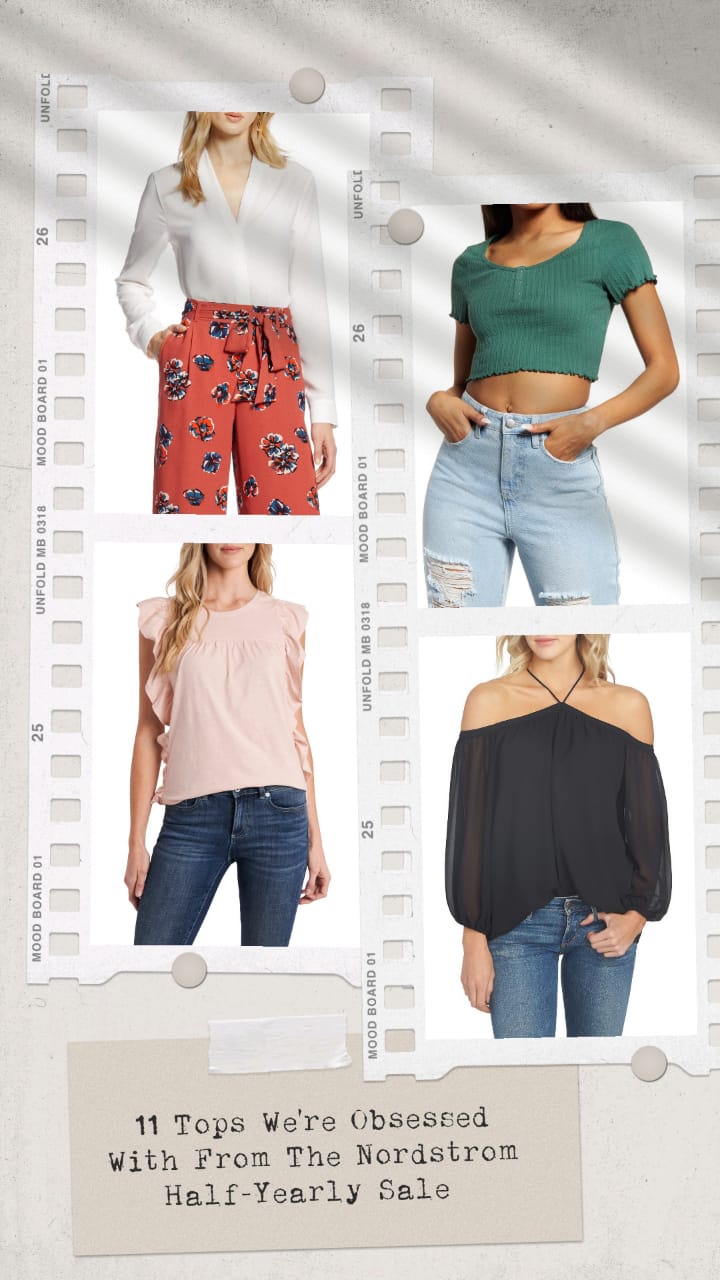 If there is a wardrobe staple that we will never bid adieu to, it's a good top. Be it for lounging around at home, going out for an errand, catching up with friends for a coffee, or attending a work meeting – there's a top for each of these occasions. So, come any season, any month, any year – we will always rely on a gamut of tops to avoid fashion faux pas.
Speaking of tops, this year, we witnessed the cream of the crop dominating our wardrobes. From ribbed tops to oversized silhouettes to cropped ones – the fashion scene was deluged with a plethora of tops in varied styles available in a spectrum of prices. As we go through spring and await the arrival of summer, our wardrobes crave a rotation of newer styles, brighter colors, and different prints. And trust us, there are so many tops out there that tick all our styling needs.
We know picking timeless pieces while staying updated with the latest trends is a mammoth task. That's why, we've scoured the 11 best tops from Nordstrom's Half-Yearly Sale that'll never disappoint you. They are fashionable, functional, couture, cozy, snazzy, sophisticated, and budget-friendly! So, slay the fashion scene this season with the Nordstrom women's tops sale. You can thank us later!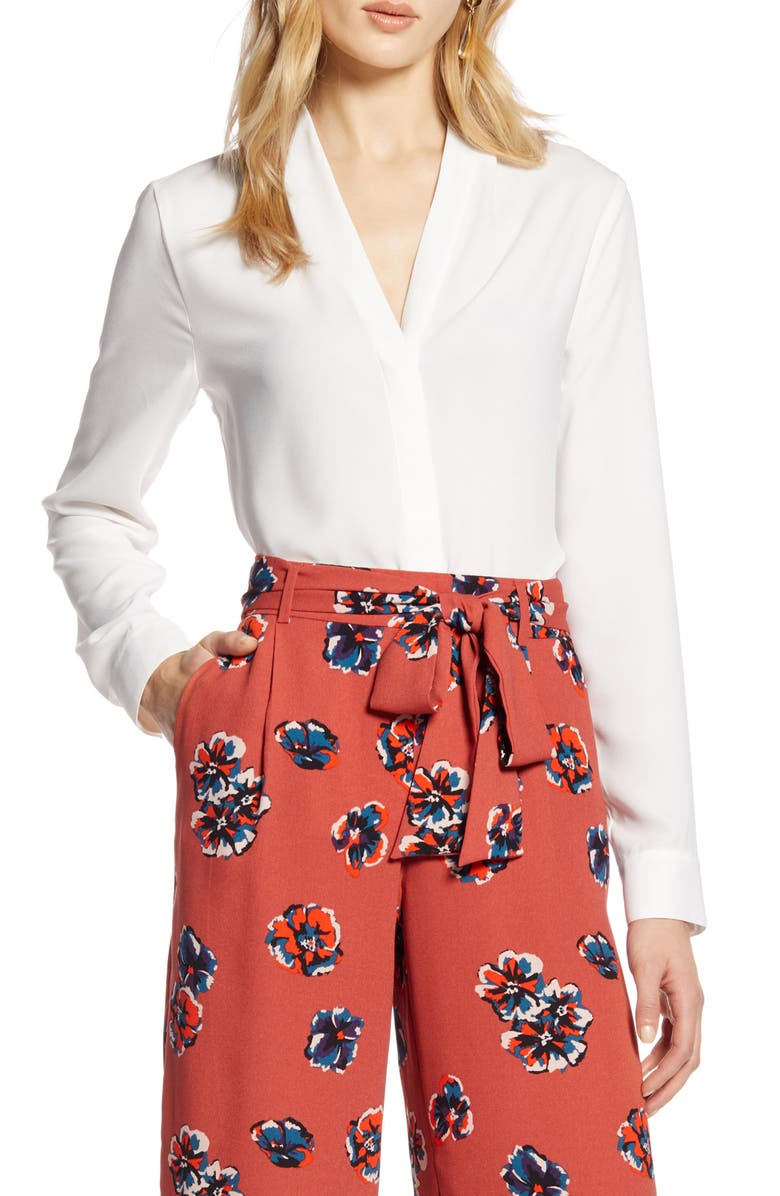 V-Neck Top ($59) $35.40
This one's a timeless classic, to be honest. This V -neck from Nordstrom women's tops sale is an absolute must-have for anyone who loves a crisp, polished number in their wardrobe.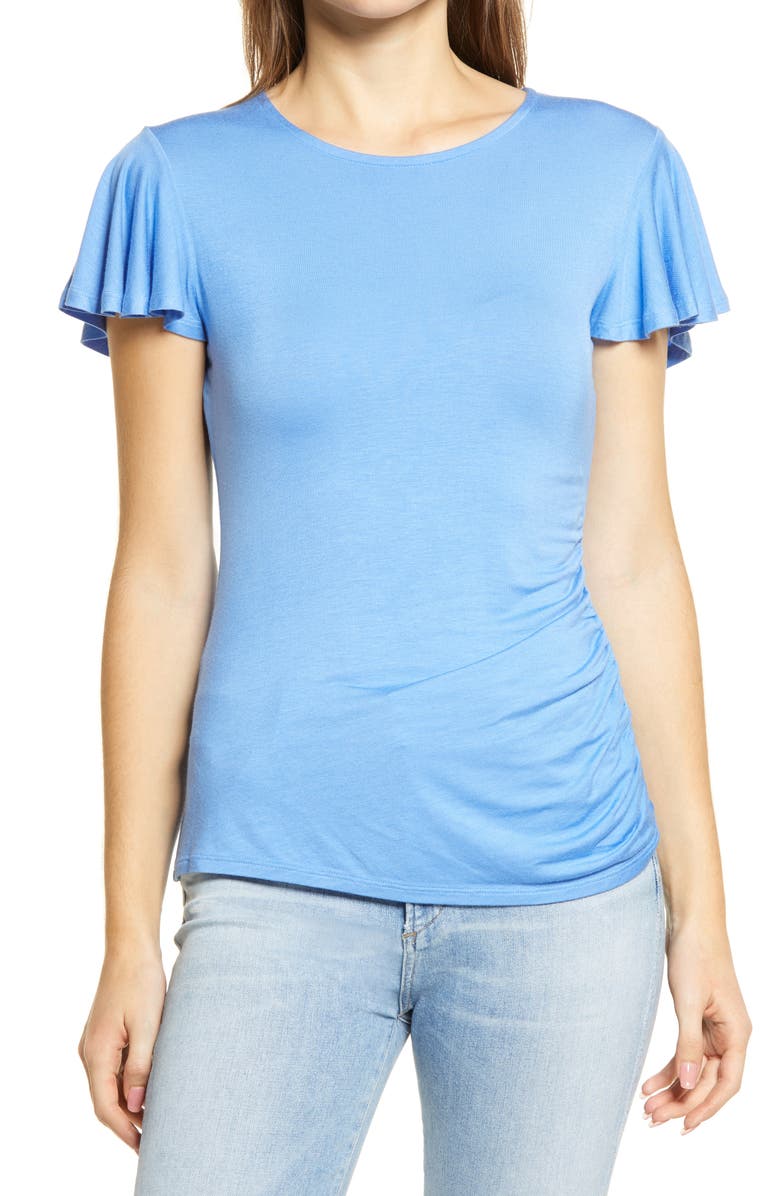 Ruched Side Knit Top ($25) $11.25 – $15
If you are tired of wearing basic tops, pick this number in a blue hue that comes with fluttery sleeves and ruching at the side to add a bit of drama to the otherwise simple silhouette. Don't like it in blue? This one comes in black, grey, and white too – so pick your favorite shade and rock the season with casual style.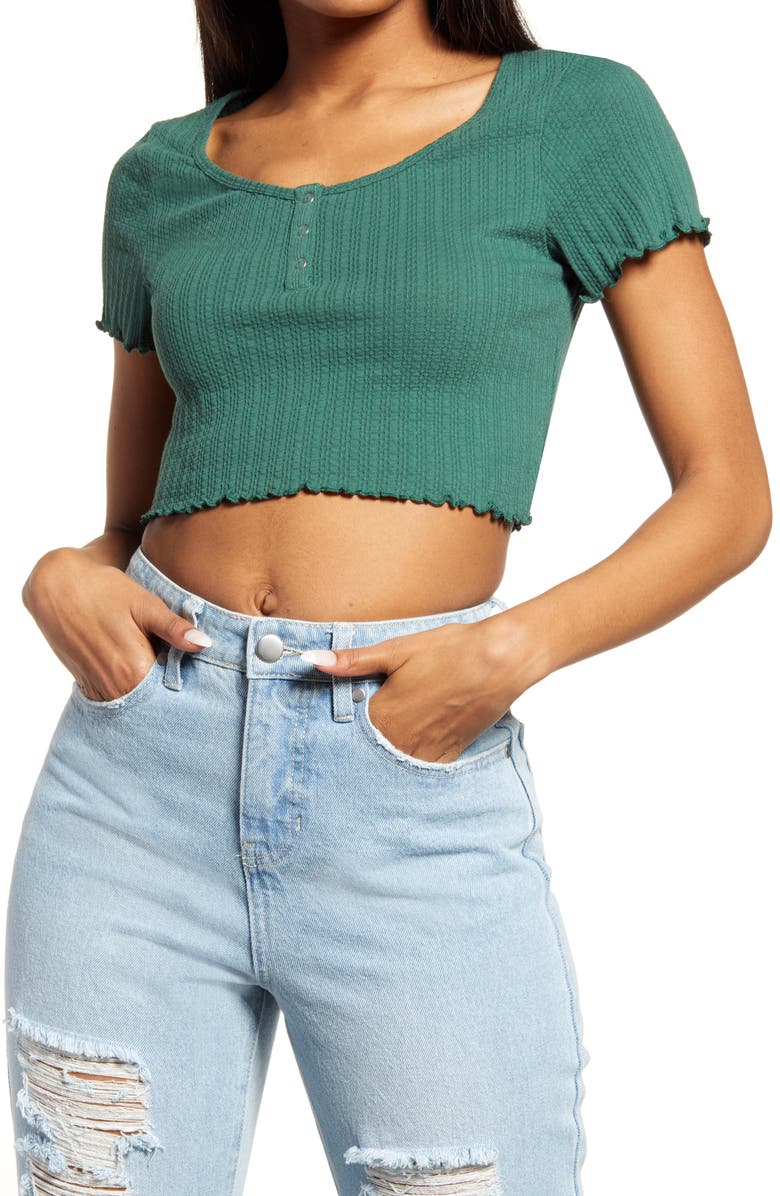 Pointelle Rib Crop Henley ($12) $7.20 – $9
It's cropped, it features pointelle stitches, it comes with lettuce edges, and it's ribbed – what's not to like about this affordable pick? Oh, did we mention that it is available in 6 more colors to choose from? Yes, there's a reason why this ribbed crop top is going right to our carts!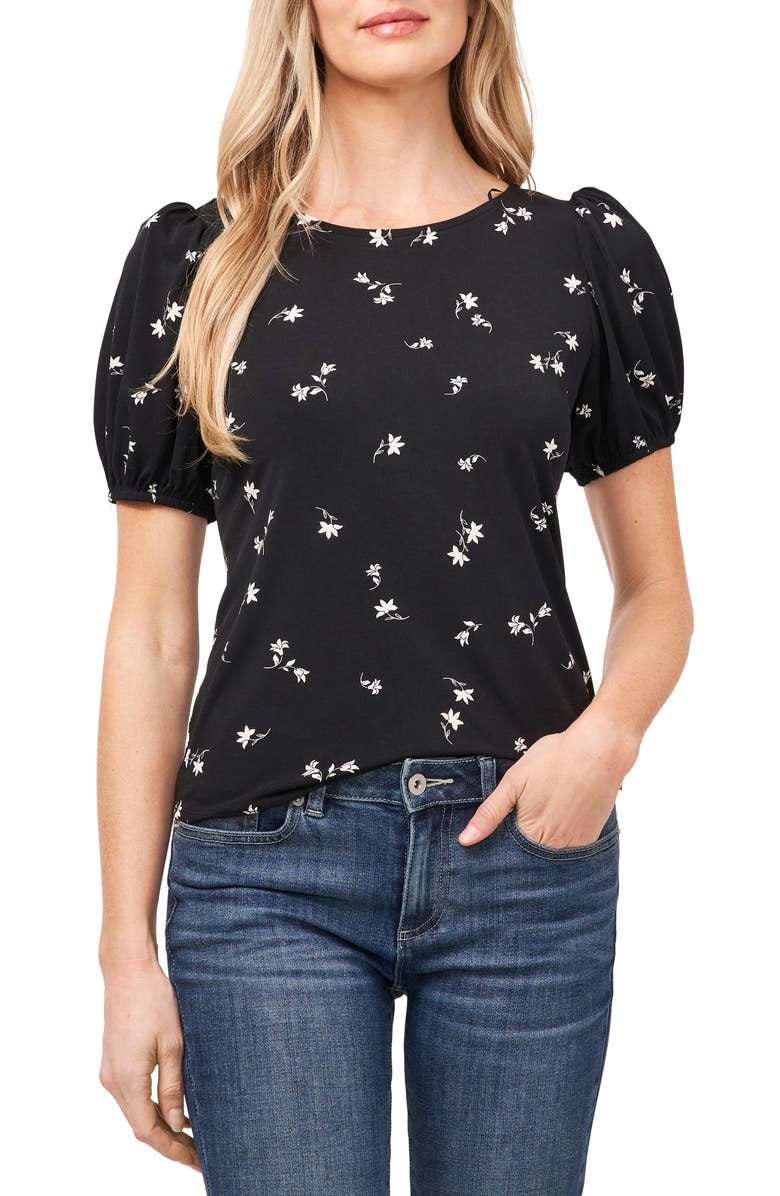 Stencil Bouquet Puff Short Sleeve Knit Top ($59) $35.40
A knit top is a style staple. This one gets a chic update with puff sleeves and delicate floral prints. Available in black and red, this stretch-knit top is a wardrobe essential for many avid fashionistas – and we're no exception.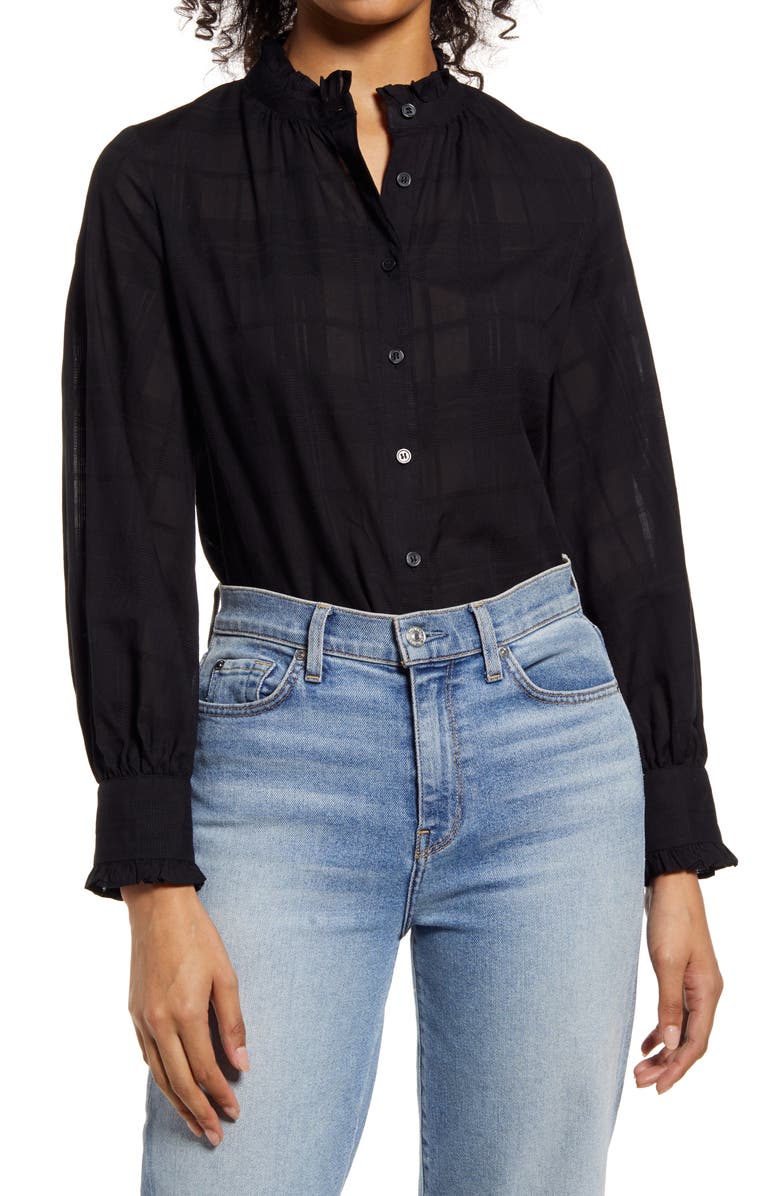 Halogen Ruffle Button-Up Blouse ($69) $49.40
A button-up blouse adorned with ruffles – this is what workwear dreams are made of. With long sleeves and a formal fit, this blouse is a downright closet staple.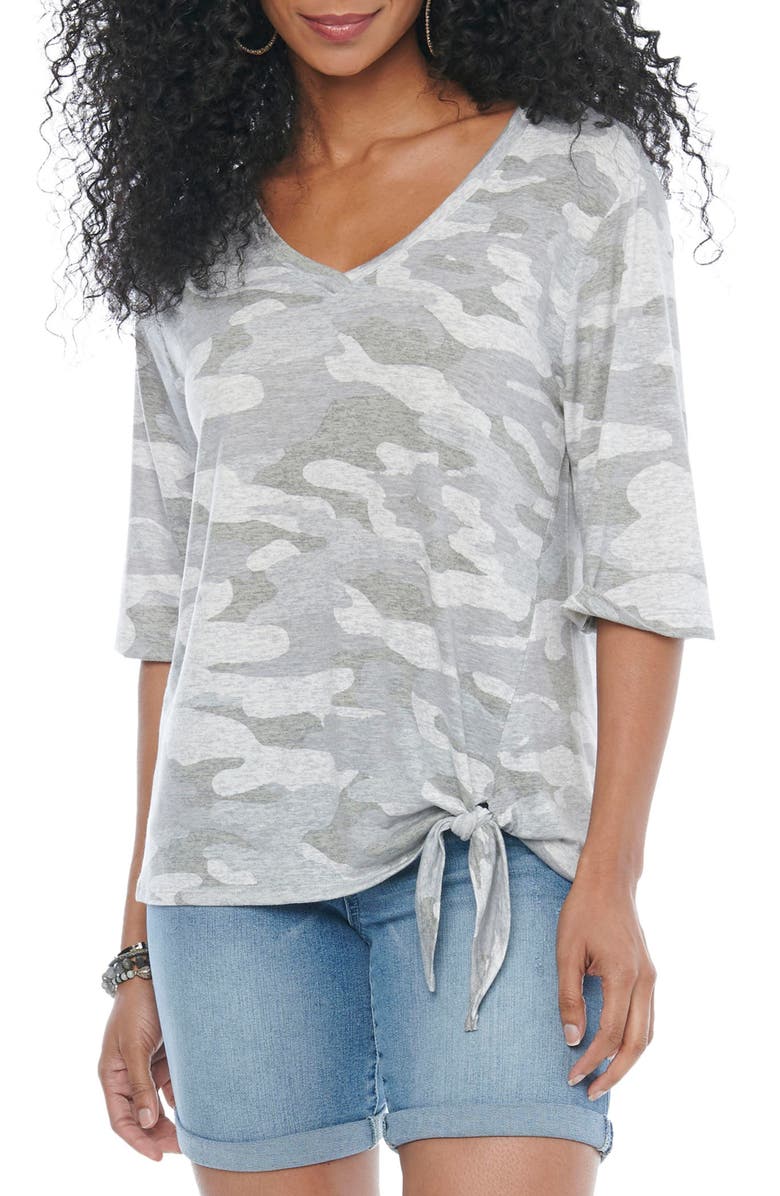 Camo Side Tie Top ($39) $23.40
If casual fashion is the name of your game, get your hands on this camo top this instant. Elbow-length sleeves, and a side tie dial up the chic factor of this V-neck top – so that even this casual number can help you strut in style.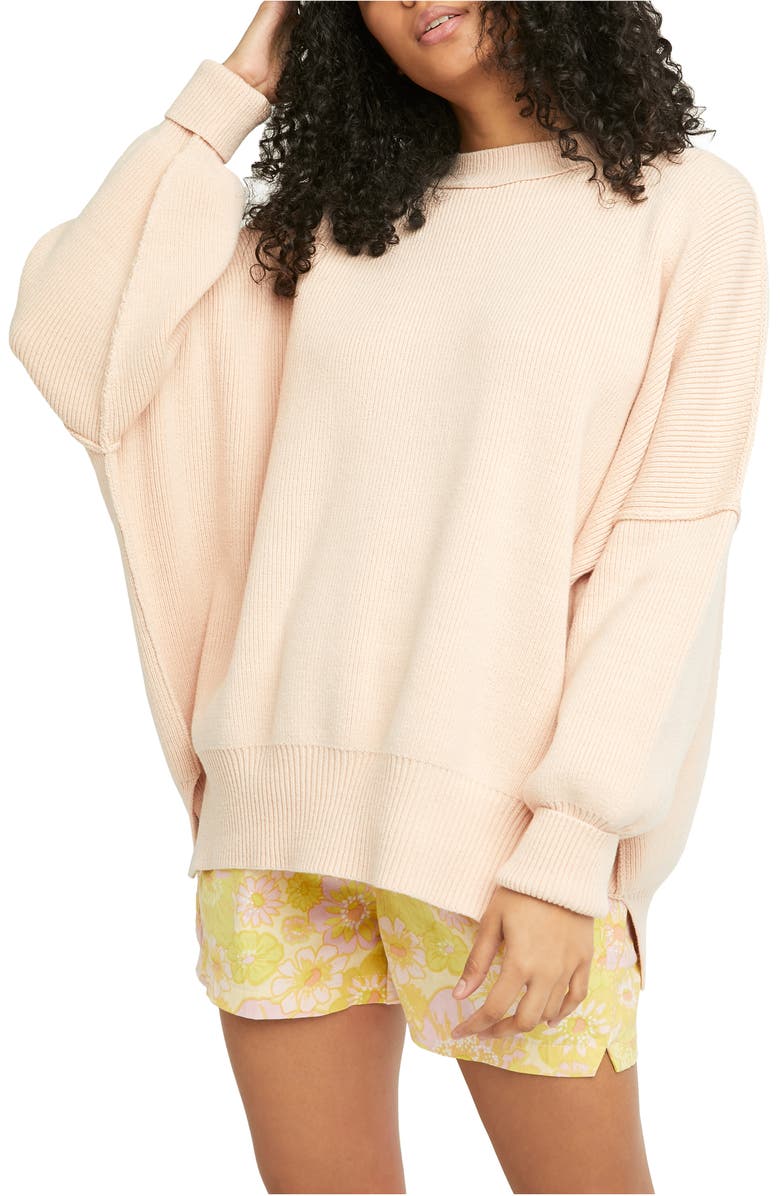 Easy Street Tunic ($128) $76.80
On nippy evenings when you just want to laze around at home, get behind this oversized tunic that reimagines what casual sophistication looks like. Imagine sipping on a cup of hot chocolate on breezy evenings wearing this tunic made from chunky knit. It's surreal to say the least.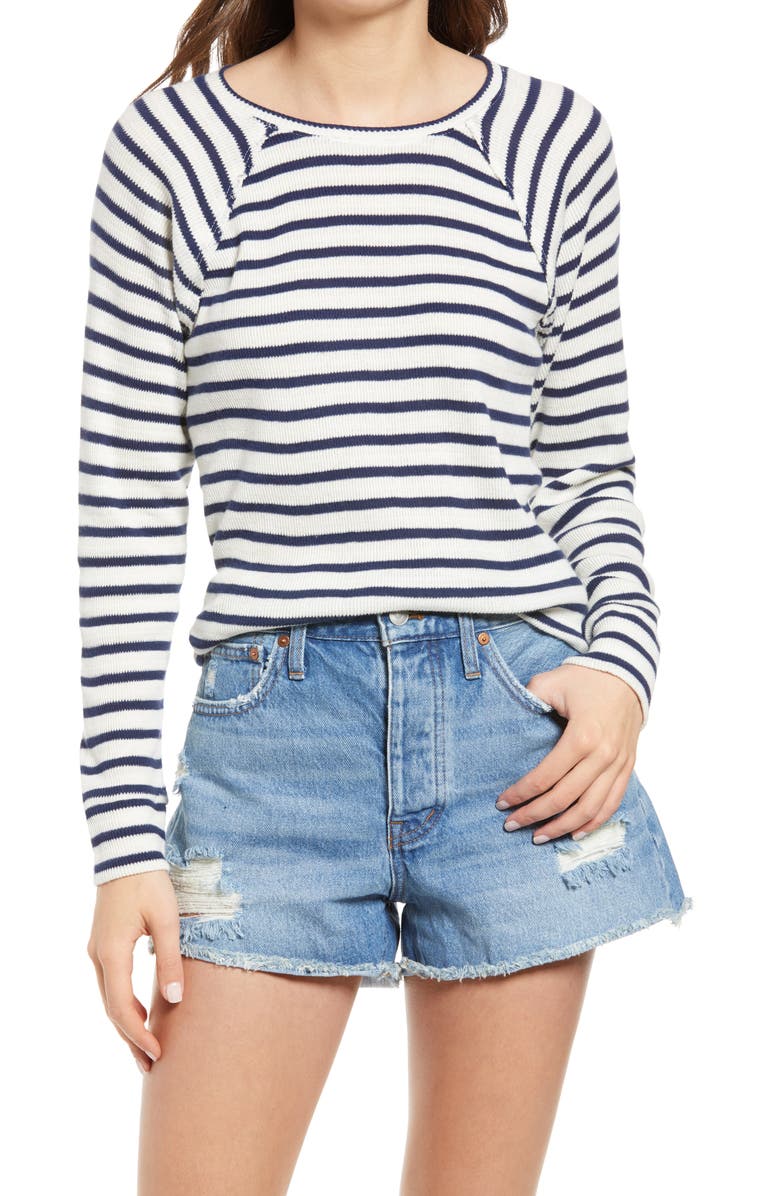 Long Sleeve Thermal Top ($39) $23.40
Are you still not over the cozy fits that dominated the fashion scene last year? We can totally relate – and that's why, this raglan sleeved thermal top is on our list. Add the charm of blue and white horizontal stripes and a curved hemline, and you have a winner on your hands.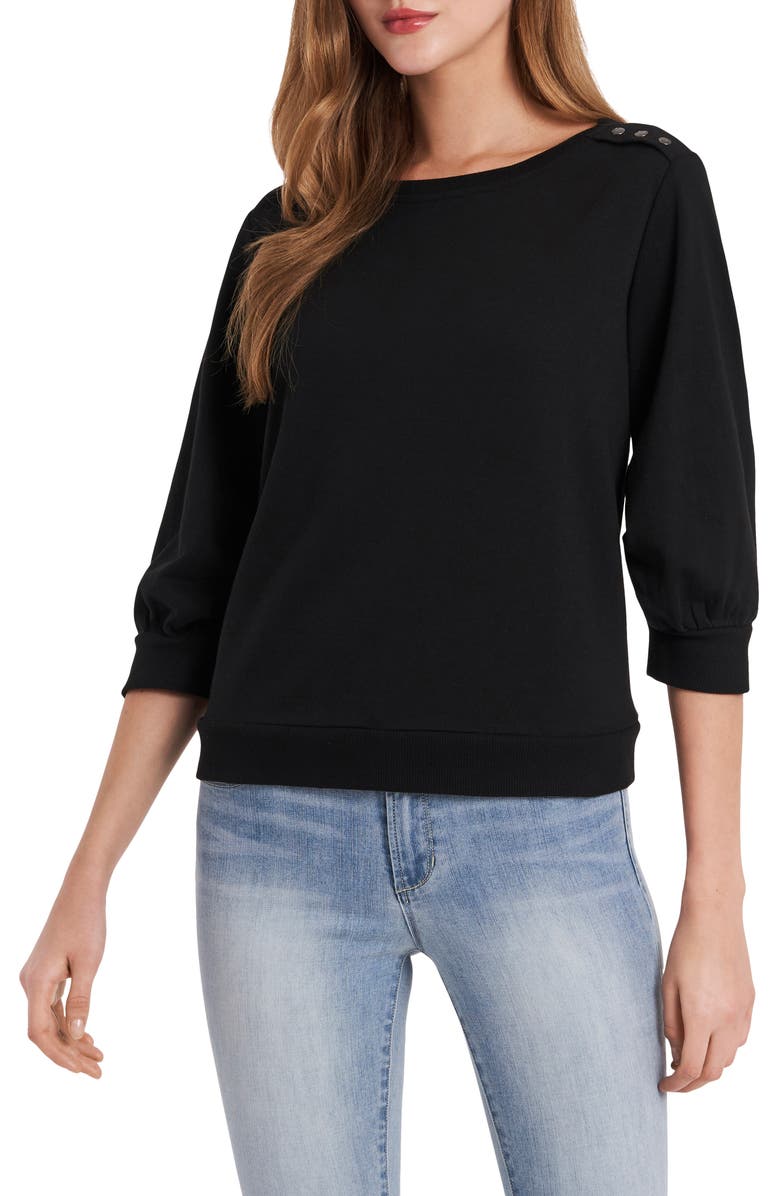 Puff Sleeve Top ($69) $49.40
Puff sleeves are here to stay. With snap accents on the right shoulder and ribbed knit fabric, this is a top you can style with anything – literally anything!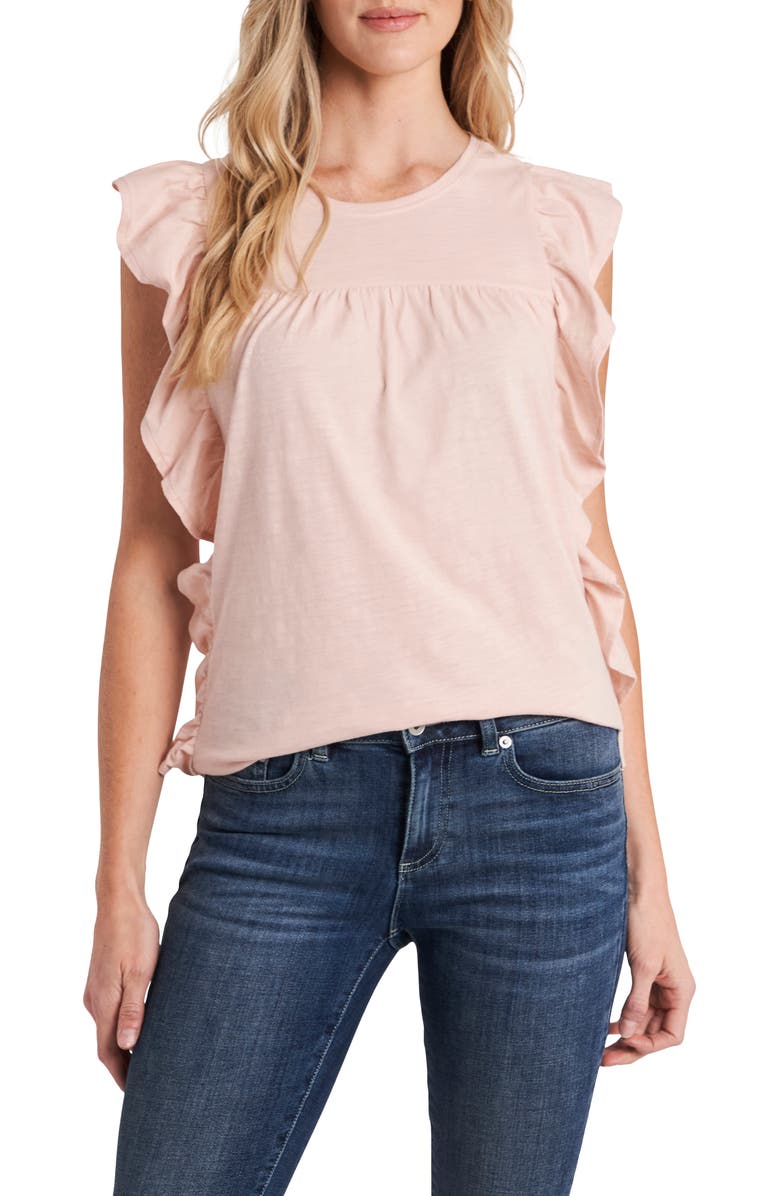 Cascading Ruffle Top ($49) $29.40
If there's only one style you invest in this season, let it be ruffles. This pattern can add a much-needed dramatic flair to any plain outfit. This cap-sleeved cotton blend top is proof.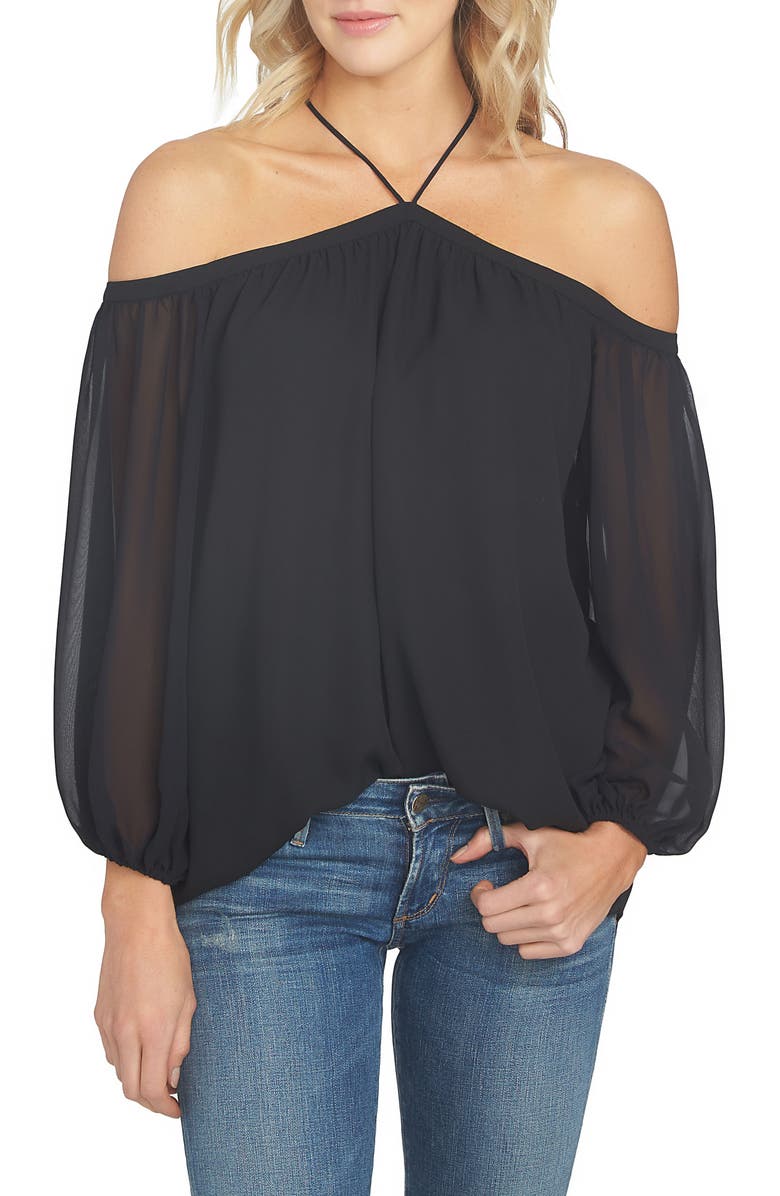 Off The Shoulder Sheer Chiffon Blouse ($79) $47.40
Channel your feminine charm effortlessly with this sheer chiffon blouse that features an off-the-shoulder silhouette and thin straps. For your casual events, this one is an ideal pick.
Up Next: 17 items on Nordstrom's half-yearly sale that we just can't resist