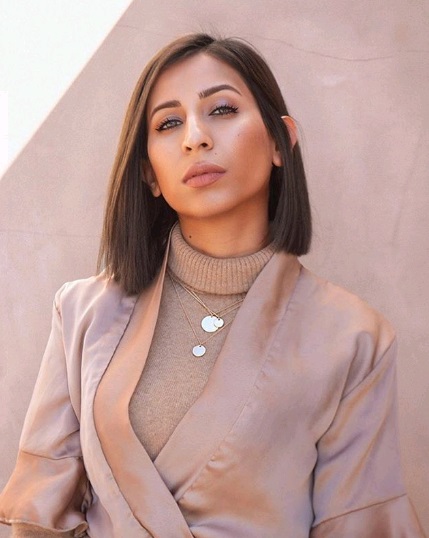 I can proudly say that I've been religiously moisturizing my skin for years now. Well, although moisturizing was a crucial step in my everyday skincare regimen for obvious reasons, it didn't really help my parched skin. Of course, it moisturized my skin, but the hydration never lasted long. I was actually on the lookout for a lightweight moisturizer that delivered long-lasting hydration. While I was at it, I came across the concept of facial oils. It turns out a good nourishing facial oil was all my dry skin had been looking for. While I experimented with a few oils, I came across the Model Off Duty Beauty's Youth Illuminating Face Oil, and honestly, it has been an absolute game-changer for my skin.
This clean beauty facial oil is formulated with a highly concentrated blend of intensely nourishing ingredients along with hydrating plant-based oils. In fact, it is specially curated to feed my skin with plenty of antioxidants and omegas. This face oil for dry skin is all I needed for a hydrated, healthful, youthful skin that glows. Read ahead to find out all about the Youth Illuminating Face Oil.
The Best Face Oil For Dry Skin In 2023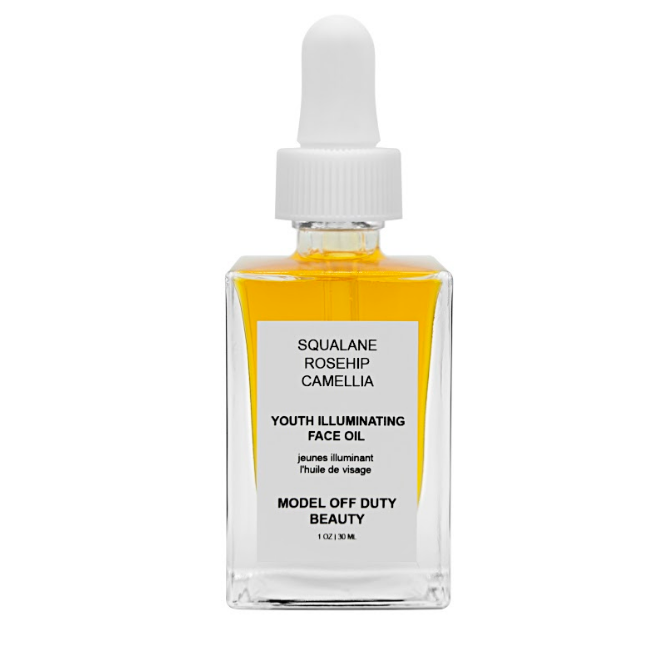 Model Off Duty Beauty Youth Illuminating Face Oil
The Formula
This MODB facial oil has a unique formula made up of olive-sourced squalane, camellia seed oil, jojoba seed oil, extra virgin rosehip oil, marula oil, unrefined evening primrose oil, non-GMO vitamin E, and essential oil containing propolis, royal jelly, and honey. Rich in essential oils and anti-aging agents, this oil definitely helps in hydrating and protecting the skin. In fact, it delivers a youthful glow and adds that extra healthy flush.
The Ingredients
Although the best part about Model Off Duty Beauty products is all its ingredients are 100% natural, non-GMO, gluten-free, sustainable, vegan, phthalate-free, paraben-free, cruelty-free, and non-toxic, there are plenty of other benefits that this face oil offers. Read on to find out.
Squalane: Filled with the powers of olive sourced squalane, this facial oil works by balancing the natural oil production of the skin. Plus, it has the power to deliver all the essential hydration without any greasy feeling. Furthermore, it also has plenty of anti-aging properties.
Rosehip oil: Another skin-loving ingredient in this face oil is rosehip oil. With the power of rosehip oil, this facial oil delivers the goodness of vitamins A, B1, B2, B3, and K to the regimen. Not just that, it has the power to heal and regenerate dull and damaged skin. It is the key to even-toned, radiant, and plumper-looking skin.
Camellia: With the goodness of camellia, this facial oil is equipped to eliminate any dry patches and delivers healthy-looking skin.
The Final Verdict
I have been using this facial oil for over a month now. Honestly, I never knew I needed a facial oil before this product actually gave me plumper and glowing skin. With a dream-like texture and easy-to-use (and 100% recyclable) packaging, this facial oil became my favorite in no time. In fact, my skin not only looked noticeably healthier, but it felt healthier too. You'd never guess I had dry patches all over my skin, which is why moving forward, I can't even imagine my regime without this facial oil. As a matter of fact, in my book, this Model Off Duty Beauty facial oil is a huge winner, and I highly recommend that you try it for yourself to see just how good it is.