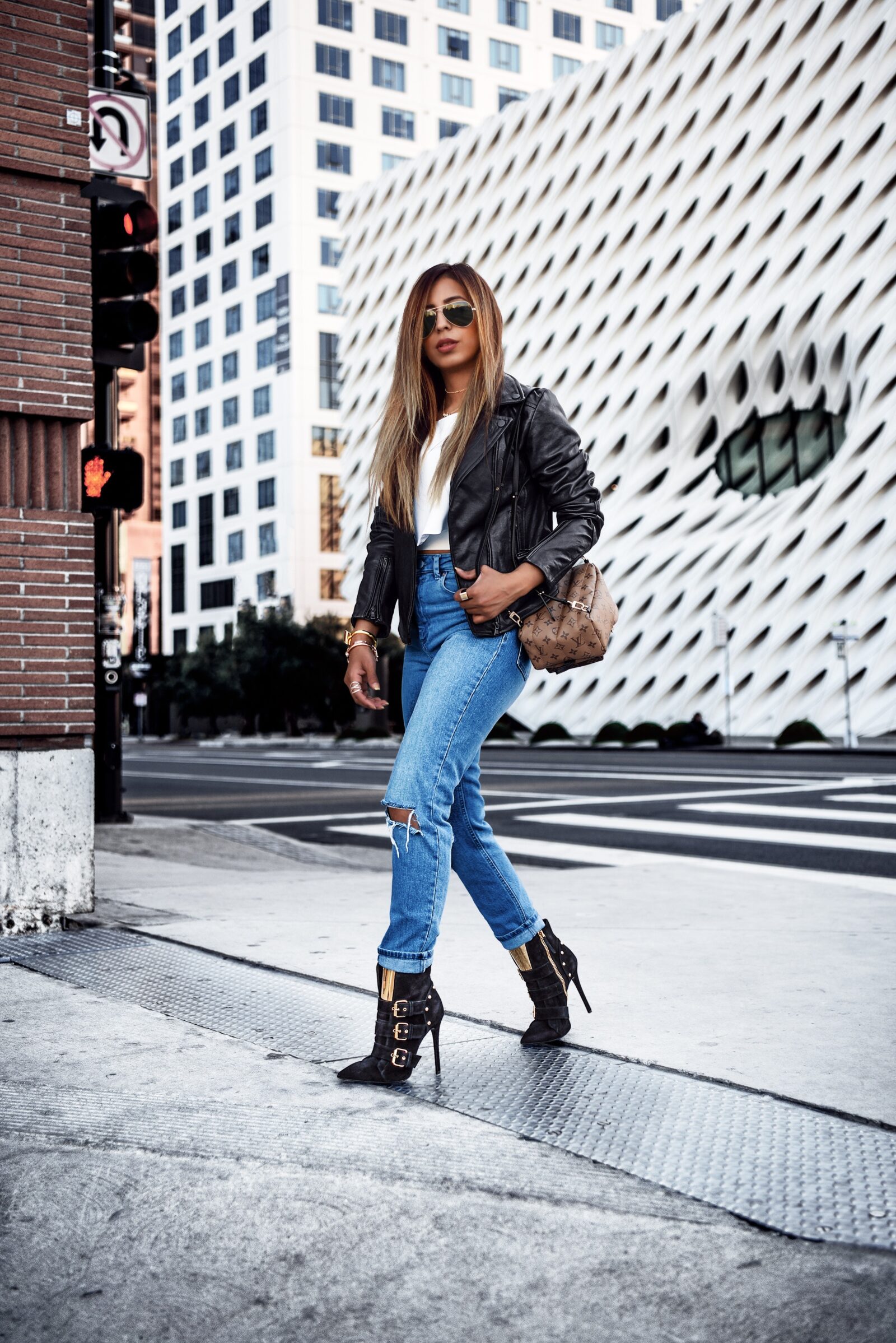 Jacket : DSTLD JACKET  | Top :  CROP TOP  | Boots : GIUSEPPE ZANOTTI (similar)  | Jeans : ASOS JEANS | Bags : LV BACKPACK

Happy midweek! We all have read a lot of articles about the things we should toss out during the year end cleaning of our closet's. Today I wanted to discuss the items we should not toss out. Of course one should not be a hoarder and I definitely believe that year end cleaning is a great idea to make room for the future purchases. I am just suggesting that we should never regret our decision when we look back at it. Here are 5 things you should never toss out  as they are perfect, no matter what the season or year it may be.
Leather Jacket : A leather jacket is one of those items that looks better and better the more you wear it. It's always tricky to find one that fits you really well, so when you finally get your hands on the lucky one don't be so quick to give it up. I finally found the one I am obsessed with.
3.ALC
A Quality Tank/Top For Layering : No matter how the season's change and the trend's change but a basic quality tank always comes in handy. You can use them for layering or just by themselves. Especially in neutral colors.
1.TULAROSA
3.MADEWELL
Your Perfect pair of Jeans :  Its always fun to buy a new style and new pair of jeans. I am always on the hunt for new style of denim but for all of us there's always that one pair of jeans that fits us like a glove and is extremely figure flattering. So just because its 2-3 years old is not a reason enough to toss it out. Thank goodness I didn't toss out my old flared jeans as they fitted me really well and they came back in fashion.
Tees that are or can become vintage : Your vintage designer tee or band tees or some that you think will become vintage in a few years of you keeping it, should not be tossed out. Vintage fashion in clothes keeps on becoming big and people are willing to pay more for it now than what it costed originally.
1.DIOR- We should all be feminists tee
Your First Designer Bag : Everyone has an emotional attachment to their first designer bag. No matter how the style or season changes but you should keep it as a reminder of how hard you worked for it at the time you bought it.
Thanks for stopping by