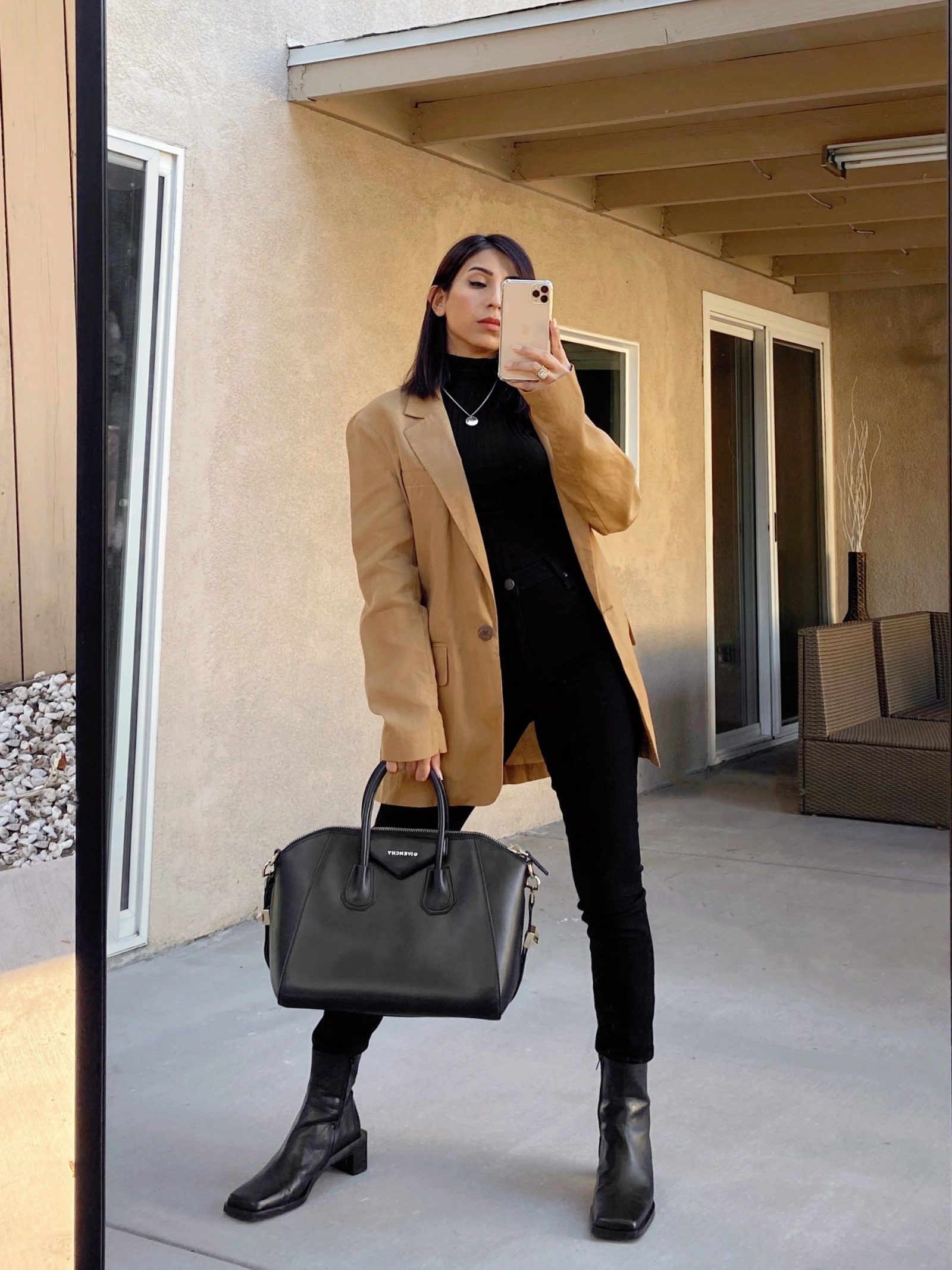 Winter is just around the corner and you get pumped up to break out your boot collection stacked in a dark corner of your closet. You excitedly pull them out only to realize that they're outdated and frankly, a little tasteless. Don't worry, it happens to the best of us. Not to brag, but we've mastered the skill of buying timeless and everlasting fashion pieces after years of trial and error. So we thought we'd share our wisdom with you today. The first order of business – winter boots. It is imperative that you get yourself at least one pair of boots to get through the winter in style and without frostbite. Whether they're a classic style or on the experimental end of things, we've come up with a well-rounded list of 15 boots that will match each of your unique personalities. We don't want to get ahead of ourselves, but we're certain that these will become staples in your wardrobe for many years to come.
Oshay Pointed Toe Bootie ($189.95) $94.90
A stunningly sleek bootie with a fusion of Western-style silhouette and details of a Chelsea boot elevated by a stacked heel that makes it truly versatile.
Popular Dr.Martens boot with a vintage style profile and a thick, rugged sole that gives it an 80's vibe.
Derika Leather Boot ($239.95) $119.98
Classic high boot with a slouchy form, crafted from buttery smooth suede that's all tied together with a squared-off toe.
Classic II Genuine Shearling Lined Short Boot ($169.95 – $179.95)
Insanely comfortable short boot with a plush, genuine shearling interior that you'll never want to take off. 
2976 Quad Platform Chelsea Boot ($179.95)
Rugged chunky stacked soles with a sleek Chelsea boot body that combines the best of both worlds to offer you extended versatility.
Classic Mini II Genuine Shearling Lined Boot ($149.95 – $159.95)
Indulge in these soft and cozy UGG boots with a plush lining on the inside with moisture and stain wicking fabric on the outside. 
Rainier Platform Bootie ($149.95)
Rock on in these edgy booties with a platform sole that's further accentuated with pinpoint studs.
Laguna Waterproof Chelsea Boot ($149.95)
Glossy exterior that's waterproof in a classic Chelsea boot style that's a must-have for the season. 
Gradina Block Heel Bootie ($149.95) $74.98
Western-style bootie that's sculpted to perfection and grounded by a stacked block heel to add a finesse to your winter looks.
Elisa Genuine Shearling Bootie ($149.95)
Comfy and chic bootie that's taken up a notch with the accent of genuine shearling.
Yale Chelsea Boot (178.95 – $198.95)
Sleek, poised, and everything we're looking for in a boot – this Chelsea boot is bound to become a new favorite.
Cloudy Waterproof Chelsea Rain Boot ($64.95 – $65.00))
Rich faux-leather body and a platform lugged sole that is sure to win your heart.
For when you're feeling extra fierce, opt for this glamorous pointy toe bootie that elongates your legs and elevates your fits.
Izzie Genuine Shearling Lace-Up Boot ($248.95) $224.00
A classic lace up bootie with a genuine shearling trim that makes it on-trend and perfect for the season.
Tinsley Waterproof Rain Boot ($54.95) $37.96
Embrace the wintertime in these waterproof Chelsea boot that's durable so you can be carefree.
Up Next: Our 15 Favorite Boots For The Season That Are Incredibly Stylish