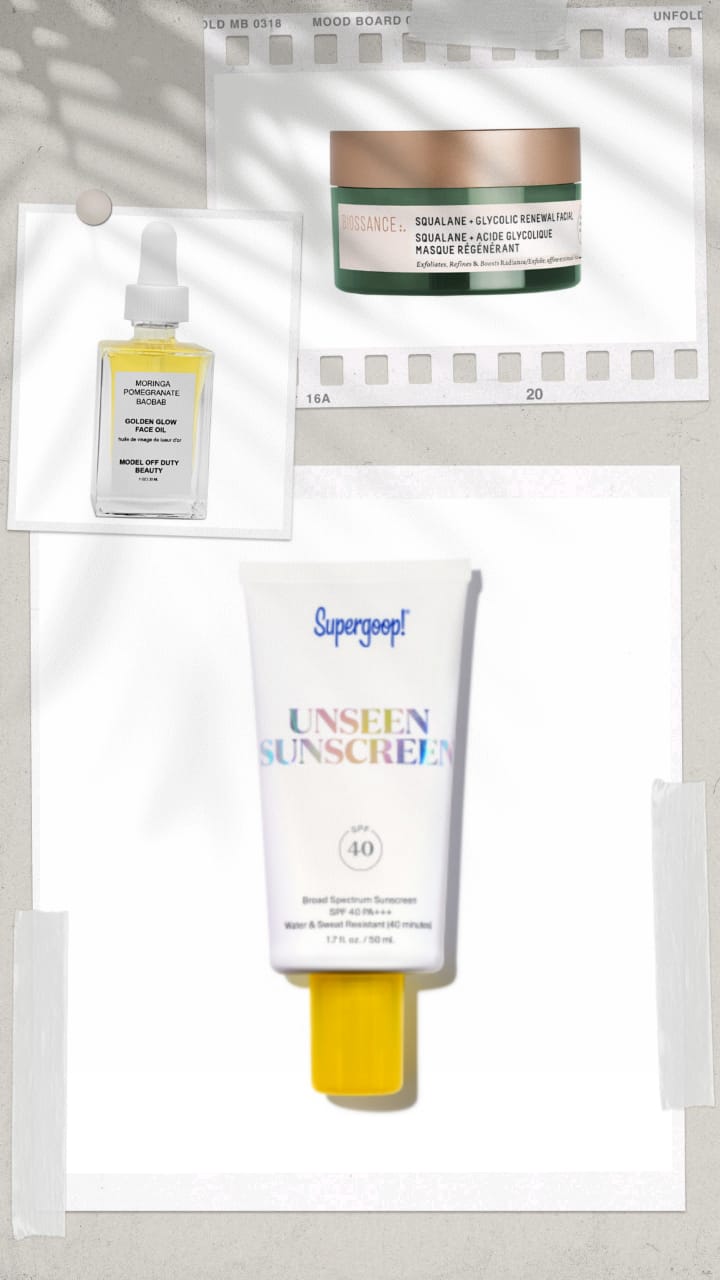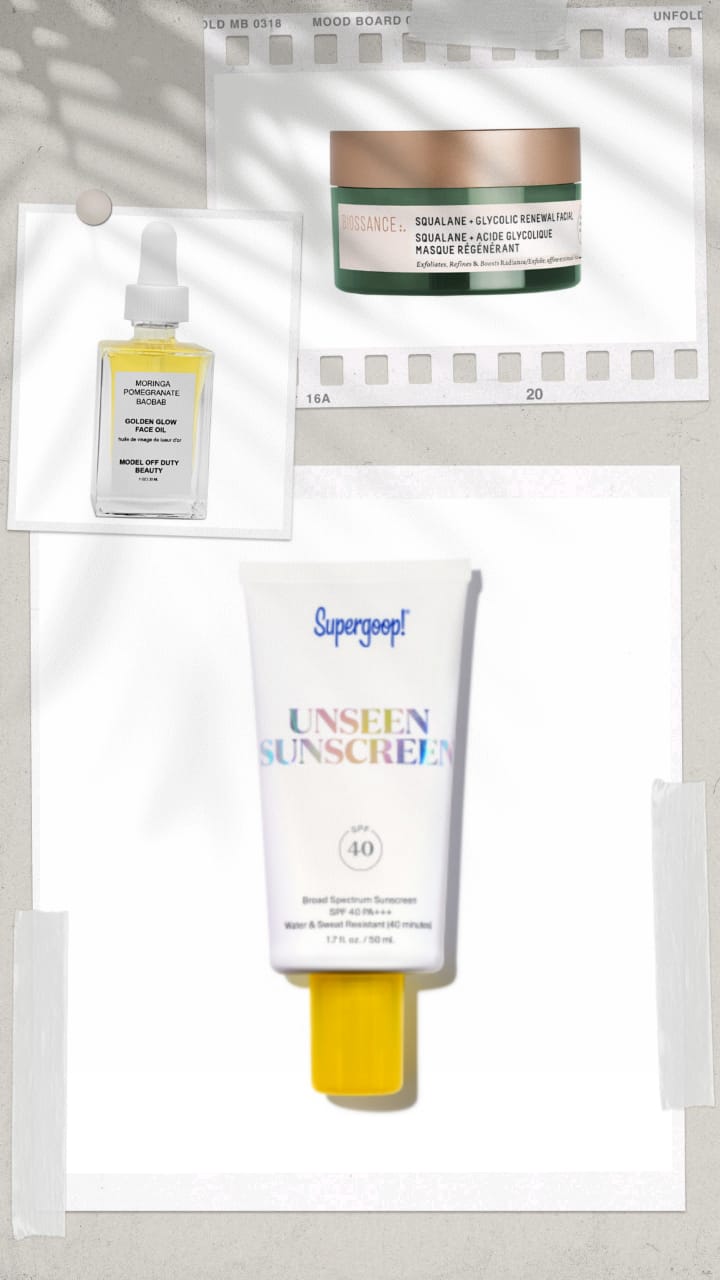 Let's be honest, at one point in our lives, we have all been guilty of stalking that one person with an undeniable cheekbone glow. What if we tell you, you are just a product away from a similar luster-filled gloriously glowing skin. Trust us, we are not exaggerating. We are all about skincare, and we know how to ace the glow game. And the good news is we like to share. That is precisely why we have shortlisted the 7 best skincare products for glowing skin.
We have scoured endless skincare and makeup products to handpick only the best ones. In fact, every product on this list is our go-to product for a glow-rious day ahead. So, what are you waiting for? Pick your favorite products from the list below to glow your best.
The 7 Best Skincare Products For Glowing Skin In 2021
This Model Off Duty Beauty face oil is the go-to product to make your skin naturally glowing. It is an excellent replenishing face oil suitable for all skin types, especially combination or dry skin. This face oil is made up of 100% natural superfoods. Each superfood is a proven ingredient to make your skin healthy and radiant. Additionally, this facial oil has the power to essentially hydrate your skin and reduce the signs of aging. Besides, MODB's Golden Glow Face Oil is power-packed with naturally effective ingredients like moringa, pomegranate, baobab, and argan.
Glow Stick Glistening Illuminator
We have particularly proud to present before you this portable cream highlighter. This stick highlighter is a dream come true. Available in its first-ever universal shade, this highlighter is all you need for an instant dewy glow. This Glistening Illuminator has the power to deliver a universal glow that suits every unique skin tone. The sheer cream can instantly brighten for an unparalleled glow. Marc Jacobs Glow Stick Glistening Illuminator is the perfect blend of gold and silver peary pigments for a healthy-looking glow. You need this portable spotlight to shine like the star you are.
We highly recommend adding this award-winning bronzing powder into your makeup regimen. The Hoola Matte Bronzing powder by Benefit Cosmetics is the best product of its kind. It is available in four classic shades that deliver an undeniable sunkissed glow all day long. In fact, if you have always wanted the perfect product for a completely natural-looking tan, your search ends here. This complete set with a mirror and a brush can be your portable tanning kit. Pick this for a smooth seamless and effortless tan.
Squalane + Glycolic Renewal Mask
The Squalane + Glycolic Renewal Mask by Biossance is an exceptional three-in-one product. This single product exfoliates, refines, and visibly boosts radiance. You must pick this for a complete skincare experience. Its hydrating formula is all you need for skin-rejuvenation, softening and a gorgeously matte glow. Suitable for all skin types, this product is a one-step solution for dullness and excessive oiliness. Also, this renewal mask is filled with the goodness of bilberry, squalene, sugar cane, and AHAs.
If you are on the lookout for a suitable sunscreen for your skin type, you must pick this Supergoop! product. This practically invisible, lightweight, scent-less sunscreen is one of the most important products to make your skin noticeably better-looking. It is a makeup-gripping primer that is power-packed with SPF 40 to actively protect your skin from the sun while making you look gorgeous. Suitable for all skin types, it is full of anti-aging properties. This gel-based sunscreen is formulated with the goodness of meadow foam seed extract, red algae, and frankincense.
The Face Illuminating Self-Tan Drops
These tan drops will make your skin seriously desirable. The Face Illuminating Self-Tan Drops by Tan-Lux is like a dream come true. You must pick this product to transform any moisturizer, face oil, or serum into a custom-made self-tanner. It's almost magical. Apart from delivering an aesthetically glowing tan, this product is capable of getting rid of any excessive dryness or dullness. Inspired by triple tan technology, this unique product is formulated with the help of organic tanning elements that give a glowing and natural-looking tan. In addition to that, other brilliant ingredients in this product include raspberry seed oil and aloe vera.
Model Off Duty Beauty offers a wide variety of impressive skincare products. But, if you are looking for gloriously glowing skin, you need a lightweight moisturizer in your daily skincare. The Dream Glow Moisture Cream by MODB has the best ingredients to give you that glow. It is power-packed with antioxidants along with anti-inflammatory elements to assure healthy skin. Apart from that, it has ingredients like jojoba oil, rosemary, and rosehip seed oil. Along with that, it is filled with vitamins to protect, hydrate, and beautify your skin. Above all, this is one of the best skincare products for glowing skin, since it is super safe as it is vegan, cruelty-free, and gluten-free.
Up Next: What If We Told You That Naturally Glowing Skin Is Just Three Easy Steps Away