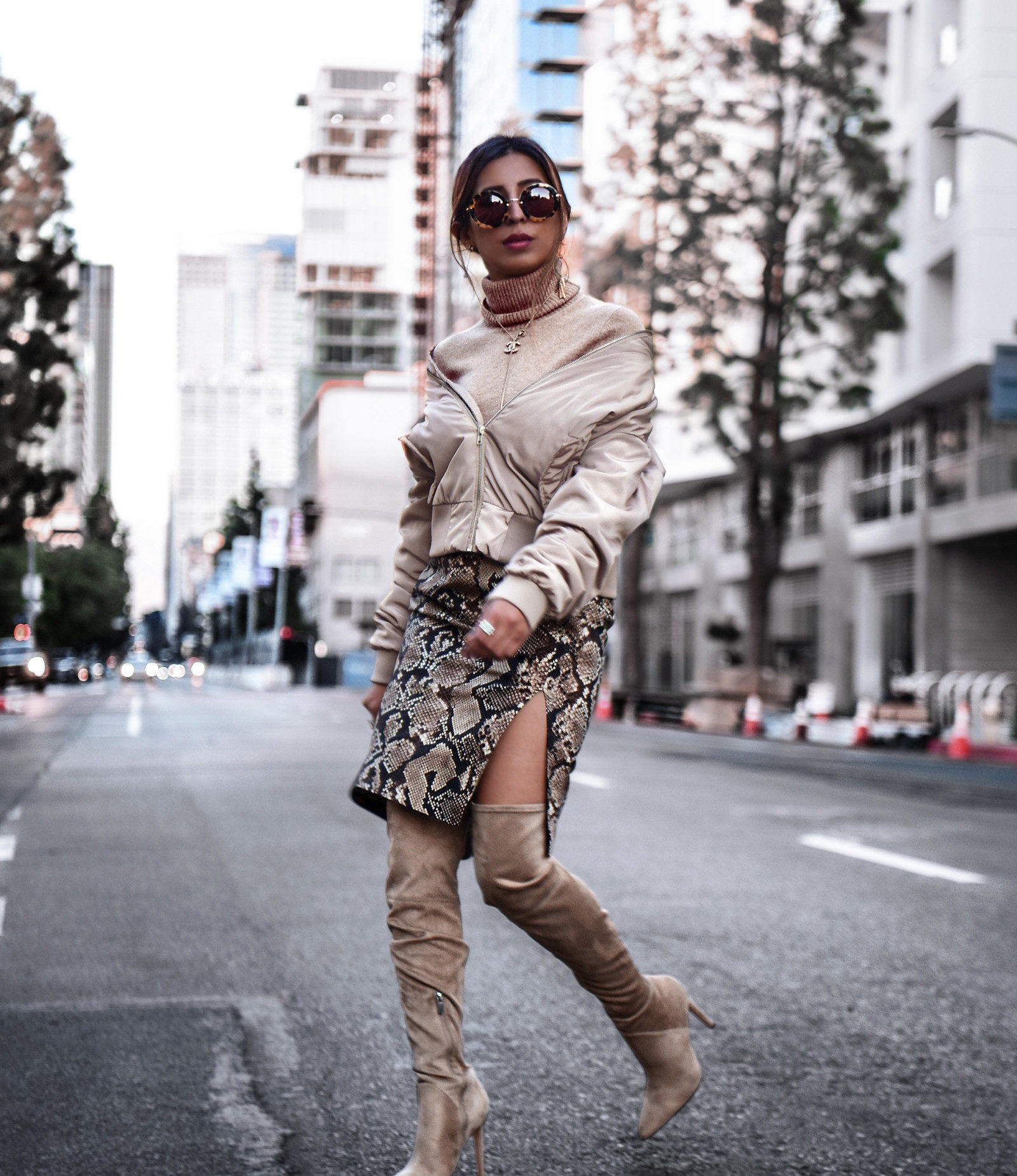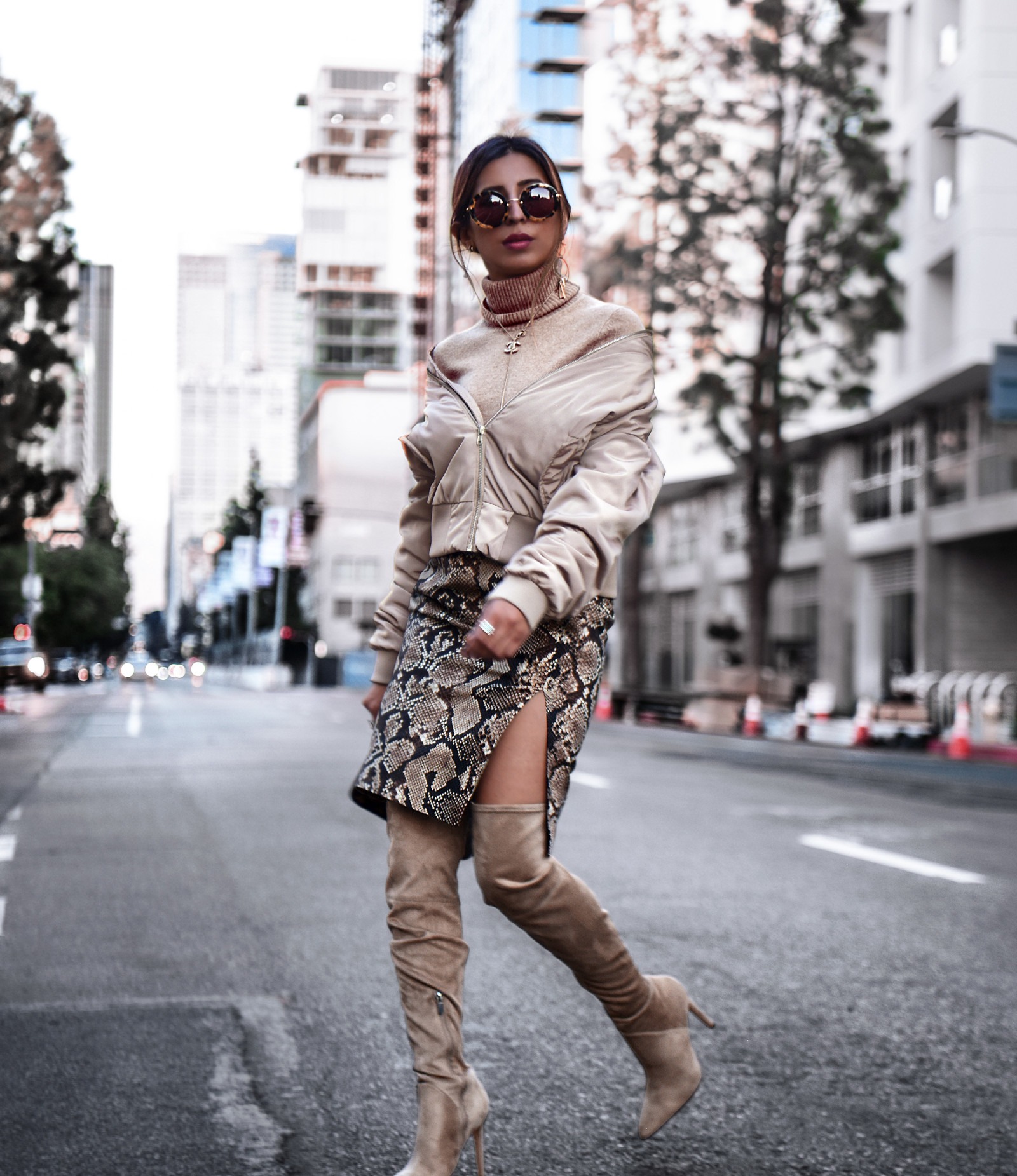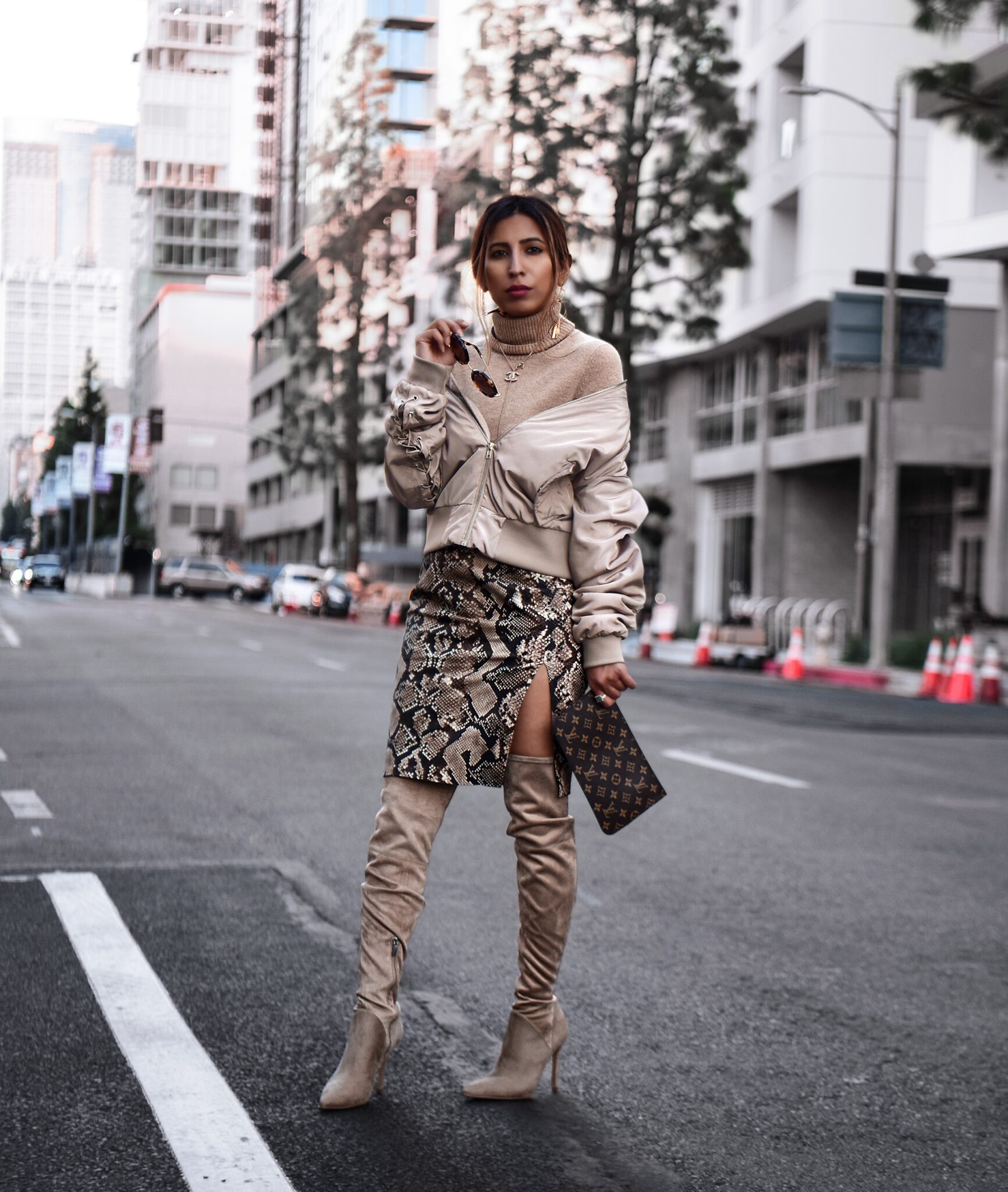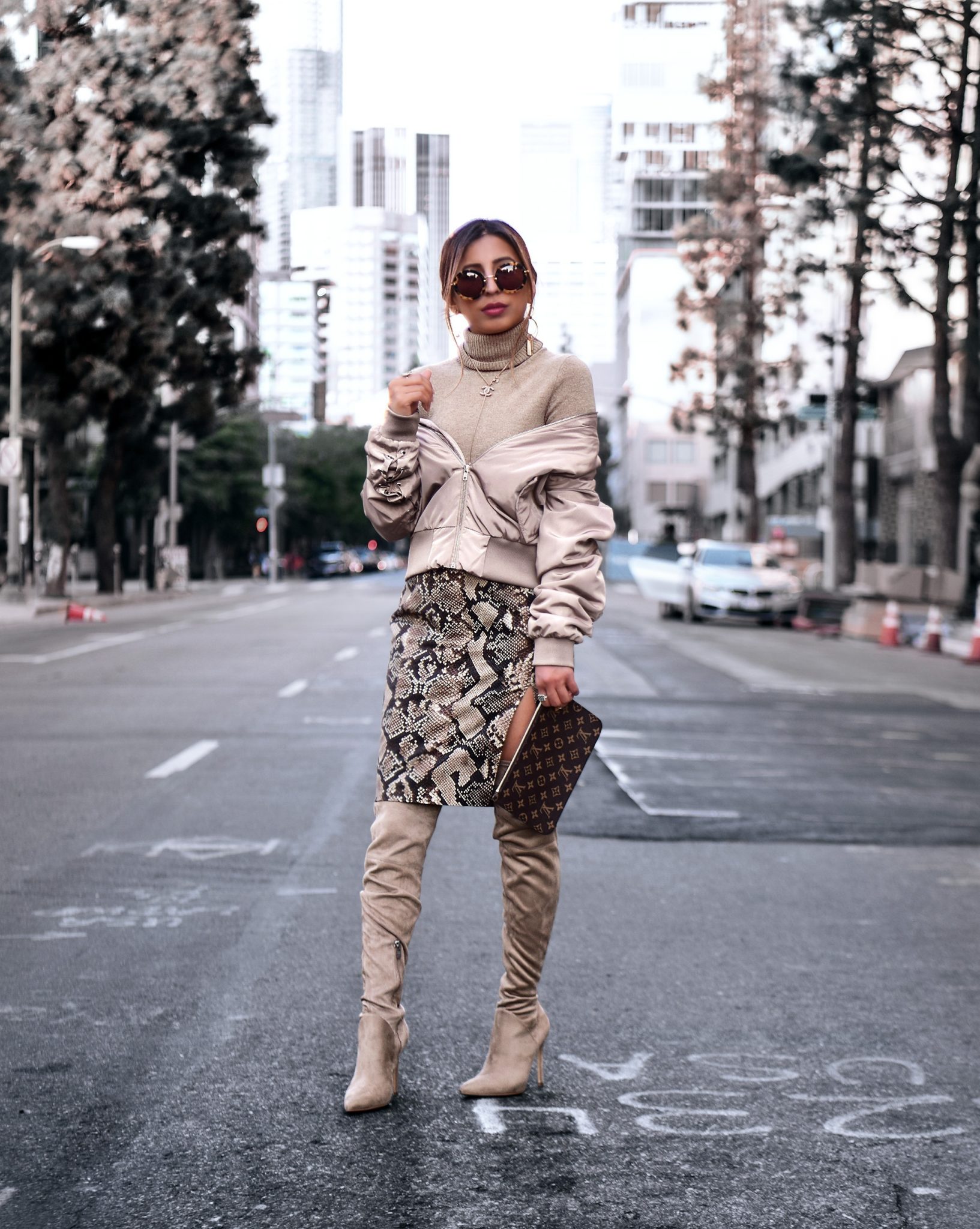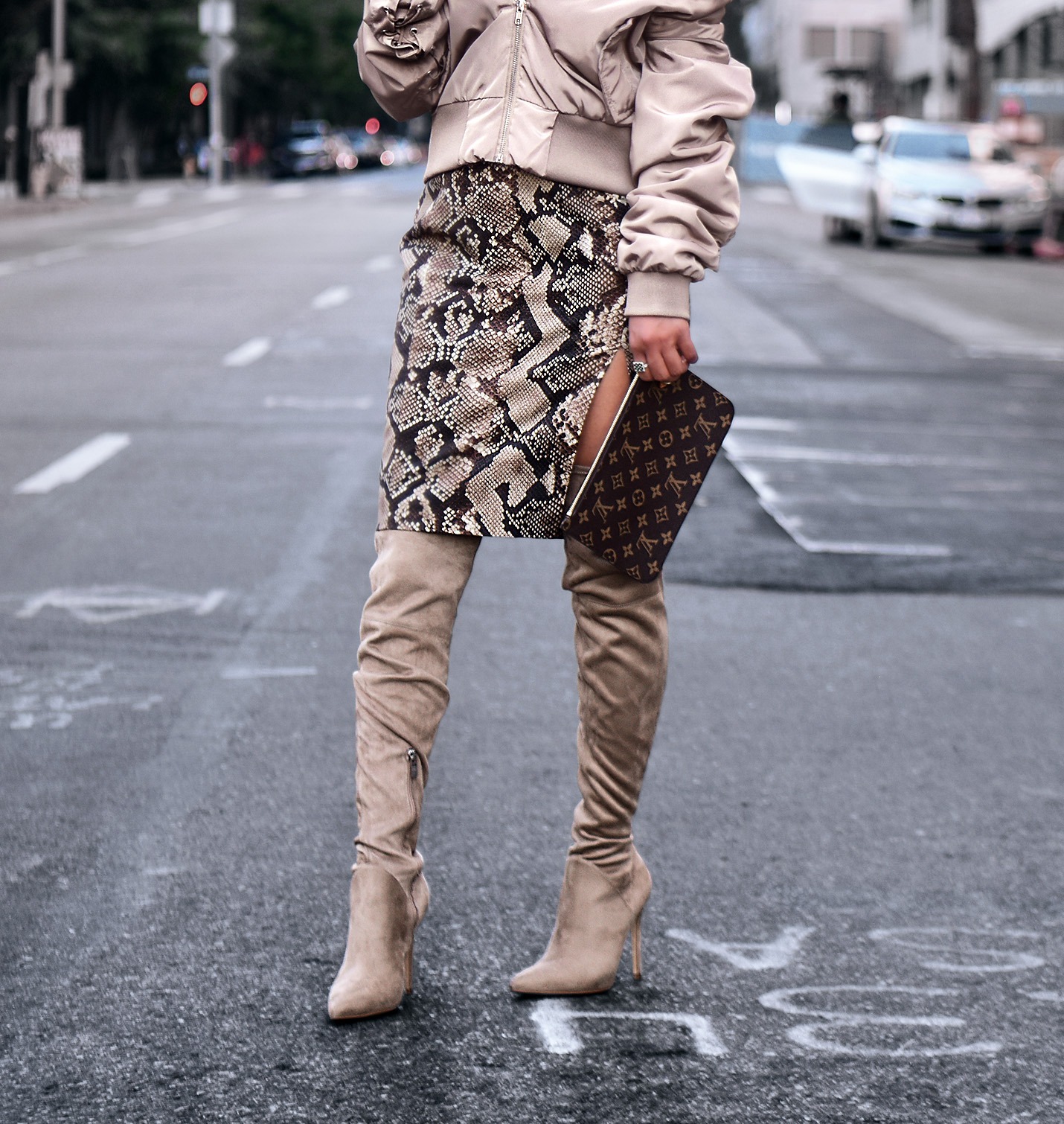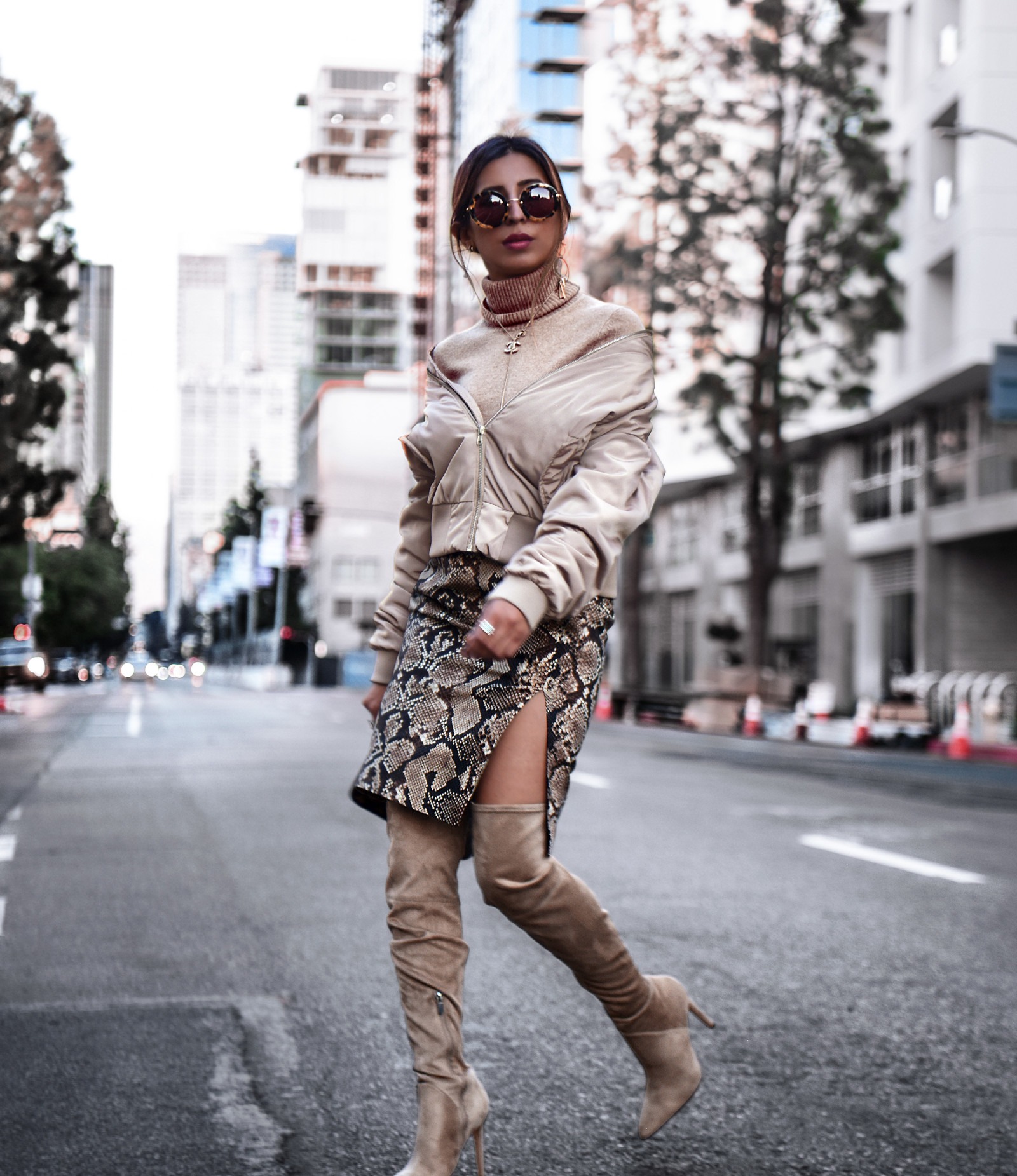 Sweater :   VELVET BY GRAHAM & SPENCER   | Boots : AYLA NEUTRAL HIGH BOOTS | Skirt : MICHAEL KORS SKIRT  or (similar here)  | Sunglasses : MIU MIU RETRO  | Bomber Jacket : NEUTRAL BOMBER (similar here)  | Pendant : CHANEL PENDANT (similar here)
One color I always gravitate towards is Tan/Camel color. Something about this classic neutral hue brings a luxe, well-made feel to any piece, no matter the price point.  Coolest thing about it is, that it also meshes well with nearly every other color, from basic to bold, which is why it will never go out of style and has been almost every designers favorite. It's just as versatile as black, but it's way more interesting. Here are 3 ways to incorporate camel into your wardrobe like a pro –
Pair With Whites
Shades like white, off-white and cream look chic and sophisticated when paired with tan and light brown colors. Camel coats is the coolest piece of clothing that one should have in their wardrobe. Pair a wool, camel coat with white trousers and a crisp, white button-down shirt for a sophisticated clean look.
2. Burberry – Crewdale Camel Hair And Wool-blend Coat
3. ASOS Wool Blend Skater Coat with Raw Edges
4. 8 Felt Coat
6. J.Crew – Cotton-canvas Trench Coat – Camel
Pop of Color
Even though all neutral looks really classy but sometimes I add a pop of color in the form of red heels or a bold color bag. It just adds an extra edge to the outfit.
1. Balenciaga – Knife Jacquard And Leather Pumps
2. Prada – Cahier Box Velvet Shoulder Bag 
3. Rebecca Minkoff Alexis Velvet Slippers
4. Miu Miu – Shearling And Textured-leather Shoulder Bag 
5. Women's Topshop Mia Ring Bootie
Head to Toe
All tan and camel are tones that look great when worn from head to toe. Personally I love how luxe it looks. Demure silhouettes such as silk, slip dresses or other monochromatic tan ensembles are a chic and stylish way to wear the shades.
Which one out of the three is your favorite style or you would like to try?
Adi xx